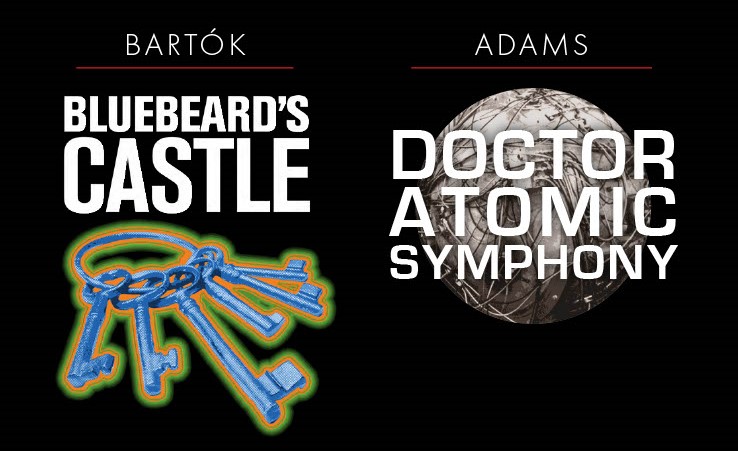 Opera Southwest: Bluebeard's Castle with Doctor Atomic
October 22 - October 29
Oct. 22, 27 & 29
2:00 pm Sundays
7:30 pm Friday
Enter Bluebeard's Castle if you dare!
Just in time for Halloween, Opera Southwest presents a double bill of thrills and chills! First, join us for Bartok's chilling one-act opera, Bluebeard's Castle. Then, dive into the psychological horror story of the Doctor Atomic Symphony, based on the Doctor Atomic opera by John Adams. This symphony tells the story of J. Robert Oppenheimer and the creation of the first successful atom bomb.
$22, $42, $63, $85, $105 with discounts for groups of 8 or more, anyone 30 years old and younger and Opera for All with a WIC or EBT card.
First on the bill, Bluebeard's Castle, the story of Judith, the young new wife of the menacing Duke Bluebeard, who unlocks the seven forbidden doors in her husband's castle and is eventually confronted by the women he has already loved and murdered.
This production has us working with two senior set artists from Meow Wolf: Lance Ryan McGoldrick and David Cudney. In this symbolist opera, each room is assigned a color. The two artists are working with the traditional themes while interpreting them using modern technology and their specialized skills. McGoldrick and Cudney have been collaborating for a decade and they're bringing all their artistic experience to the scenic design of this production. They're creating atmospheric effects, sculptures, and projections that will enhance the seven secret rooms as Judith insists on unlocking each door of her new husband's castle.
Next up, the Doctor Atomic Symphony performed by the OSW opera orchestra with projections. In this atmospheric composition, Adams presents highlights from the full opera, with instrumental treatments of the story and themes.
"With the incredible interest in Oppenheimer unleashed by this summer's blockbuster movie, Oppenheimer, Opera Southwest decided to revisit the music of the popular new opera by John Adams, Doctor Atomic, by presenting the Doctor Atomic Symphony on the opening program of our 51st season," said Tony Zancanella, OSW Executive Director.  "As a small & nimble company, we are sometimes able to pivot programmatically to meet a broader cultural moment." "There are all of these striking thematic and symbolic cross-connections between these works, which delve deep into the psychology of their central subjects as they tackle dark and morally complex themes." said Artistic Director Anthony Barrese.
Run time: 2 hours 30 minutes, including one intermission.
*This event is a rental event, not an NHCC production. The title, content, photos/images, and description for the event were provided to the NHCC by the organization renting the NHCC venue. By serving as a venue and posting the event on its website, the NHCC is not endorsing any views expressed in the title or description of the event, nor is it endorsing the content of the event.
Reserve Here
Event Navigation
Related Events