Albuquerque Journal Theatre
Upcoming Events
7 pm Friday & Saturday, 2 pm Sunday
$10, $12, $15 w/ $2 discount for seniors & children 12 and under
Disney's Moana JR. is a 60-minute musical adaptation of the 2016 Disney animated film, bringing the adventures of Moana and her village of Motunui to life onstage. The production features all the beloved songs from the film, written by Tony®, GRAMMY, Emmy, and Pulitzer Prize-winning composer Lin-Manuel Miranda, Opetaia Foa'i, and Mark Mancina, and including "How Far I'll Go," "Shiny," and "You're Welcome."
Buy Tickets
7:30 pm
AMP Concerts welcomes country music torchbearer Marty Stuart as he celebrates the twentieth anniversary of his iconic album The Pilgrim. While he's too gracious to admit it himself, the Grammy Award-winning singer, songwriter, and musician is living, breathing country music history. Join Marty Stuart as he shares his remarkable life through story and song.
$148 VIP, $48, $43, $38, no discounts
Special VIP sales begin Tuesday, July 6 at 10 am; presale to AMP Members begins Friday, July 9 at 10 am; tickets go on sale to the general public Friday, July 16 at 10 am
Buy Tickets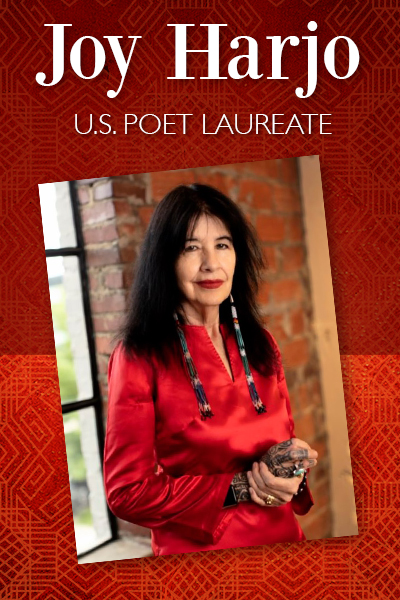 7 pm
Free and open to the public, ticket link available August 15, 2021
The National Hispanic Cultural Center/History and Literary Arts Program and the University of New Mexico/English Department present a reading, performance, and talk by U.S. Poet Laureate Joy Harjo. Harjo was born in Tulsa, Oklahoma, attended the Santa Fe Indian School, and was a faculty member at the University of New Mexico. She is an award-winning writer, performer, and saxophone player of the Mvskoke/Creek Nation. Her numerous publications include nine books of poetry, a memoir, a young adult novel, a children's book, and five CDs featuring her poetry and music. Harjo will release her sixth CD, "I Pray for My Enemies," on May 5, 2021.
7:30 pm
AMP Concerts welcomes Asleep at the Wheel, celebrating 50 years of music. Since the band's founding, Asleep at the Wheel has received 10 Grammy Awards, was cited as the 1976 Touring Band of the Year by the Country Music Association, and was given a Lifetime Achievement Award in 2009 by the Americana Music Association. They have released 31 albums and charted more than 20 singles on the country charts. Billboard commented on the band's catalog most succinctly: "Everything this act has ever released is simply spectacular."
$48, $38, $28
No other discounts
Pre-sales: AMP Members, Wednesday, July 7 at 10 am, Public On-Sale, Friday, July 9 at 10 am
Buy Tickets
8 pm (doors open at 7 pm)
$43, no discounts
"Songs are our teachers. They show us the depth of the human race and its unrelenting desire to create."—Tommy Emmanuel
Any time you talk to any of Tommy Emmanuel's fans, whether musicians or audience members, invariably they will speak of not one but two qualities that define his greatness. The first, predictably, is his extraordinary guitar playing.  Tommy is considered by those in the know to be among this planet's greatest guitarists, and his playing is simply miraculous, as it would take three musicians, or more, to do what he does solo. Who else, for example, when playing "Day Tripper," can lay down the rhythm part, dig into the riff, and sing the melody all at once with just one acoustic guitar?
Buy Tickets
7:30 pm
An accomplished guitarist and producer and an equally prolific filmmaker, Jesse Cook has developed his talents to create experiences that delight audiences, both in concert and online. He composed his first album, Tempest, over 25 years ago. Jesse could not imagine that such a humble recording, in which he played all the instruments, would spark a musical legacy with thousands of concerts performed around the world, over two million albums sold, five PBS TV specials, and tens of millions of content views and streams across the internet. Jesse and his extraordinary band are looking forward to bringing the Tempest II Tour and their unique brand of rhythm and rhumba to audiences across North America in 2022.
$48, $39, $33
Pre-sales:
Fan Club: Tuesday, July 13, 2021 at 10 am
AMP Members: Tuesday, July 13, 2021 at 10 am
Public On-sale: Friday, July 16, 2021 at 10 am
Buy Tickets
+ Export Events