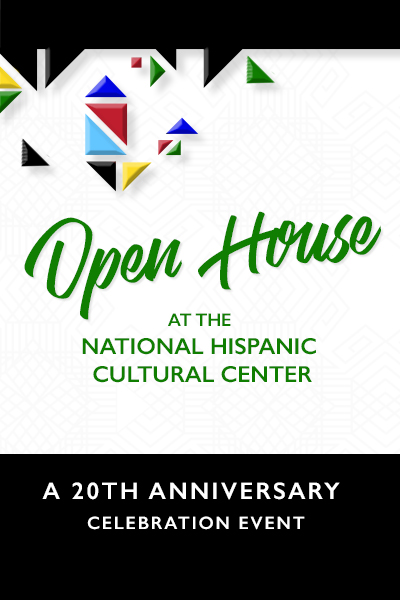 ¡Mira! 20th Anniversary Kick Off Party and Open House!
February 29, 2020
2 – 5pm
NHCC History and Literary Arts Building, Roy E. Disney Performing Arts Building, and Visual Art Museum
Mark your calendars for the first Center-wide event dedicated to celebrating our 20th Anniversary! The event will feature a variety of activities and entertainment, inviting guests to enjoy an "open-house" experience of the campus and its multidisciplinary offerings.
Free, all-ages event.
Schedule:
2:00 – 5:00 Ongoing drop-in activities in PA, VA, HLA, Torreón (see activity descriptions below); Museum, Library, and Tiendita open
2:00 – 4:00 Carnaval Mask Making
2:00 – 2:15 Music by Mariachi Xochitl
2:15 – 2:30 Welcome and opening remarks by NHCC Interim Executive Director, Alberto Cuessy and DCA Cabinet Secretary, Debra Garcia y Griego
2:30 – 3:00 Curandera Blessing
2:15 – 3:00 Music by Mariachi Xochitl
3:00 – 3:15 Poetry reading by Levi Romero on Plaza
3:00 – 3:30 Dance Class
3:00 – 4:00 Music by Chuy Martínez and Otilio Ruiz
3:15 – 3:45 Journal Theatre tour
3:45 – 4:15 Curator tour
4:00 – 4:30 Dance Class
4:15 – 4:35 Journal Theatre tour
Food:
Free Anniversary Cookies courtesy of Rude Boy Cookies
La Fonda del Bosque with munchies for sale on the plaza
Pop Fizz in the Performing Arts building (2-4pm)
Activities:
Passport to Prizes
Visit the passport table outside to pick up your copy. Visit the Torreon, the Museum, the History and Literary Arts Museum, and the Performing Arts Building and get your passport stamped in each building. When complete, return to the passport table to submit your information for the drawings. Vouchers for Lila Downs tickets (the show is on Monday 3/2) will be given away at 4:30pm on 2/29.
Drawings for the gift baskets will take place the following week. Gift baskets include a variety of fun items such as books, museum catalogs, t-shirts, performance tickets and more!
"Mundos de Mestizaje" Match Game (Torreón)
What do you know about the fresco images? Join us for a fun matching card game for children and adults in the beautiful presence of "Mundos de Mestizaje."
Child-Friendly 360° Virtual Tour of the Fresco (Library)
Join us for an online "tour" of the fresco, with a lesson-plan activity for kids (and "kids" of all ages).
Celebrate Latina Suffragists with "El Voto Femenino" (History and Literary Arts Hallways)
Come explore the new exhibit, "El Voto Femenino: sufragistas Latinas luchando por el derecho al voto/The Women's Vote: Latina suffragists fighting for the vote," through a range of interactive activities for all ages.  Learn about Hispanic/Latina suffragists worldwide and play some family-friendly games.
Celebrate Your 20's (HLA Conference Room)
Let your creative juices flow as you create your own zine (little book with text and graphics). Topics: your favorite 20 memories/experiences of the NHCC; highlights from your 20's; or favorite birthday memories. Take home a 20th anniversary memento!
Ask a Genealogist (HLA West Hallway)
Want to research your family history? Not sure where to start? Already working on your family history and want to dive deeper? Stop by our Genealogy Booth for starter tips, research assistance, and more. Stick around for a while and play "The Game of Genealogy" board game.
Free Museum Admission (Art Museum)
The Art Museum will be free from 2pm-5pm. Featured exhibitions include: Aquí Estamos: New Selections from the Permanent Collection; Southwest of Eden: The Art of Adam and Eve; and El Perú: Art in the Contemporary Past.
Curator Tour (Meet inside the Museum)
Join Chief Curator and Director of the Visual Arts Program, Dr. Tey Marianna Nunn for a tour of El Perú: Art in the Contemporary Past. Meet just inside the museum at 3:45pm.
Art Museum Pop-Up Shop (Visual Arts Building)
Shop for piñatas (own a piece of museum history!), tea towels, NHCC mugs, t-shirts, Stickers, jewelry, cards and mucho más!
How to Design a Mural with artist Joe Stephenson (Visual Arts Building)
Have you ever wondered how artists come up with the images when creating a Mural? Participants will create simple drawings or write ideas based on a variety of themes to create an image bank for a dream mural at the NHCC. Meet artist Joe Stephenson who has a long history at the NHCC as a set and art museum exhibit designer. Stephenson has worked worldwide creating murals and public art.
Museum Scavenger Hunt & Bingo (Art Museum)
Enjoy a self-guided tour in the museum and use one or more of the provided worksheets to enhance your experience. This activity is fun for all ages, and encourages slow looking!
Play with Clay (Visual Arts Building)
All three museum exhibits contain ceramic pieces of art. Can you find them? Search the museum for inspiration and afterwards try your hand at creating a small sculpture or pot out of air dry clay that is yours to keep!
This Color is Bugging Me! (Visual Arts Building)
Create a small painting in this mini version of our Cochineal workshop. Participants will use ground up beetles and a variety of liquids to create paint that will be used on water color paper. Your creation is yours to keep!
Teeny Piñata (Visual Arts Building)
Can you make a Piñata that can fit in the palm of your hand? Inspired by one of NHCC's most popular past exhibits, "The Piñata Exhibit: Sure to be a Smash Hit!" and the work of the Little Piñata Maker, participants will make a tiny piñata out of card stock and tissue paper that can be used to wear or hang in your car, the artist's original inspiration.
Tour the Albuquerque Journal Theater (Performing Arts Building)
Join this tour for an exciting glance at what takes place behing the scenes! Tours take place at 3:15 & 4:15.
Carnival Mask Making (Wells Fargo Auditorium, Performing Arts Building)
Celebrate Carnaval in an interactive workshop with Sarah Dewey and Dahveed Torres. We will be making masks, heads pieces, and parade accessories while learning the rich diversity of carnaval celebraitons in Latin America.
Dance Classes (Salon Ortega, HLA Building & Journal Theater, Performing Arts Building)
There will be two instructors guiding the group in a variety of Latin dances!
Event Navigation
Related Events