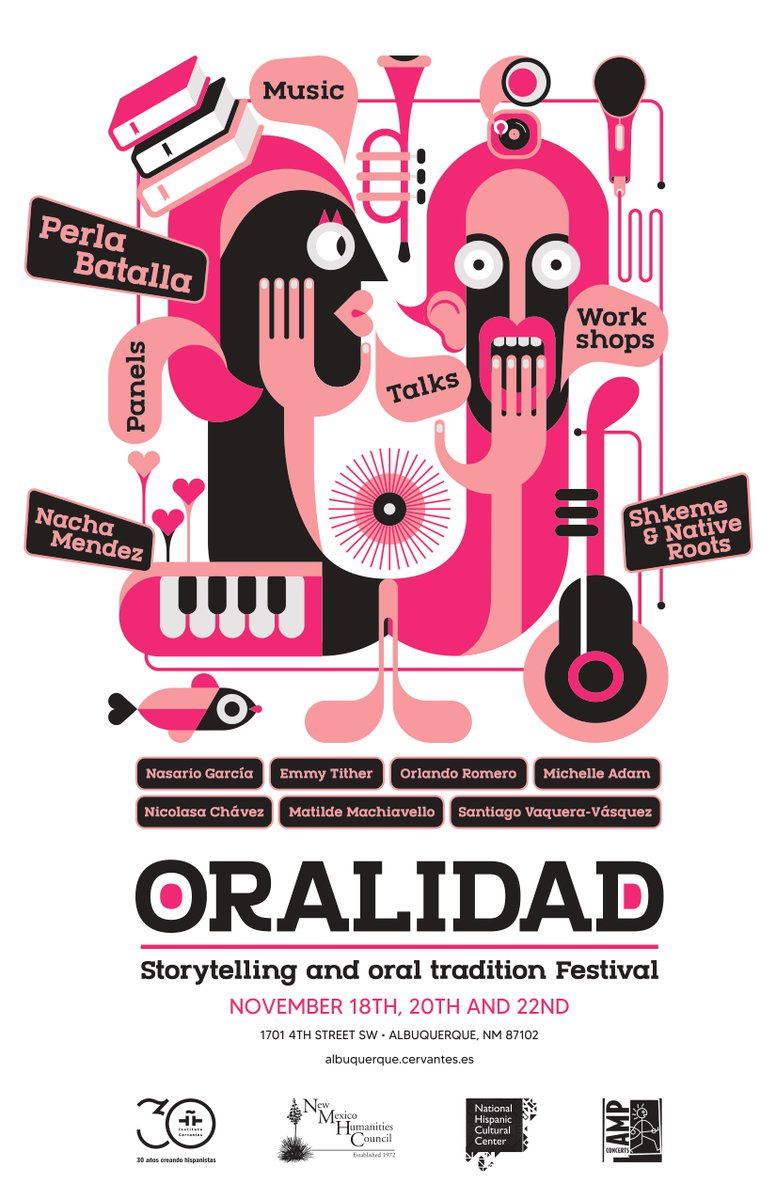 Festival Oralidad
November 20, 2021
Interactive Recital Workshop for Children, Michelle Adam—12 pm, Wells Fargo Auditorium
Workshop, Emmy Tither—1:30 pm, Wells Fargo Auditorium
Round Table Discussion, Nicolasa Chávez & Orlando Romero—4 pm, Wells Fargo Auditorium
Concert, Shkeme and Native Roots—7 pm, Bank of America Theatre
All events free to the public; previous registration for the workshops required by e-mail at ext-priscila.lopez@cervantes.es
Instituto Cervantes and the National Hispanic Cultural Center, with the collaboration of AMP Concerts and the support of the New Mexico Humanities Council, present the first Festival Oralidad on November 18, 20, and 22, 2021. The festival combines workshops, lectures, panel discussions, storytelling performances, and musical performances connected to the oral tradition and storytelling. It was created with two essential purposes: the promotion of the oral tradition of storytelling and the establishment of a collaborative relationship among artists from New Mexico, other parts of the United States, Spain, and Latin America to create new works together and contribute to the advancement of the genre.
New Mexico, where Native American cultures, Latin American oral tradition, and cultural traditions such as flamenco converge, is an ideal place for a festival focused on the oral tradition, and Instituto Cervantes is positioned to encourage this union of cultures and promote an exchange between artists of diverse origins. Over three days, Festival Oralidad offers academic and theoretical debate, shares the secrets of storytellers with children, and brings together some of the most significant musicians and storytellers in the U.S. While travel restrictions this year have limited participation to artists residing in-country, future festivals will include colleagues from Latin America and Spain.
Author, storyteller and teacher Michelle Adam's interactive recital is especially designed for children from six to twelve years old, to explore the power of stories and develop their creativity and taste for storytelling. Adam's published works include the novel Niña Duende, set in Málaga, Spain, and the bilingual children's story "Adventures with Duende in the Ocean," about a goblin who leads a child to the ocean.
Emmy Tither, an educator and researcher raised in Lima, Peru and Washington, DC, is the K-12 Educational Program Coordinator for the University of New Mexico's Latin American and Iberian Institute. She holds a BSc in Social Sciences with Anthropology from Birkbeck, University of London and an M.A. in Documentary Arts from the University of Cape Town, and has worked in the education, non-profit,and start-up sectors on four continents.
Nicolasa Chávez, a fourteenth-generation New Mexican, is the Deputy State Historian for the State of New Mexico and the former Curator of Latino/Hispanic/Spanish Colonial Collections at the Museum of International Folk Art. She has a master's degree in history with a concentration in Iberian Studies from the University of New Mexico. As a dancer/artist, she has trained in flamenco with Lili del Castillo, Eva Encinias, and Pablo Rodarte of Albuquerque, and Vicente Romero and María Benítez of Santa Fe. A writer, curator, and historian, she conducts lecture/demonstrations combining flamenco song and dance with the history of the art form, as well as lectures and programs on the traditions of New Mexico, Spain, and the Americas.
Orlando Romero, a writer and historian, received the Order of Isabella the Catholic in 2014 for "his dedication in preserving the heritage, language, history, cultural traditions and Spanish customs of Hispanic New Mexico." Born in Santa Fe, he has written a monthly column for The New Mexican since 1998, and is the author of Nambe Year One, a nonfiction book exploring the history of northern New Mexico.
COVID PROTOCAL:
This concert will require either a proof of vaccination completed at least 14 days prior to the event or a negative COVID test administered by a health care professional within 72 hours of the event. Originals or photos of documents with a matching ID will be accepted. Masks are also required while inside the NHCC.
Event Navigation
Related Events