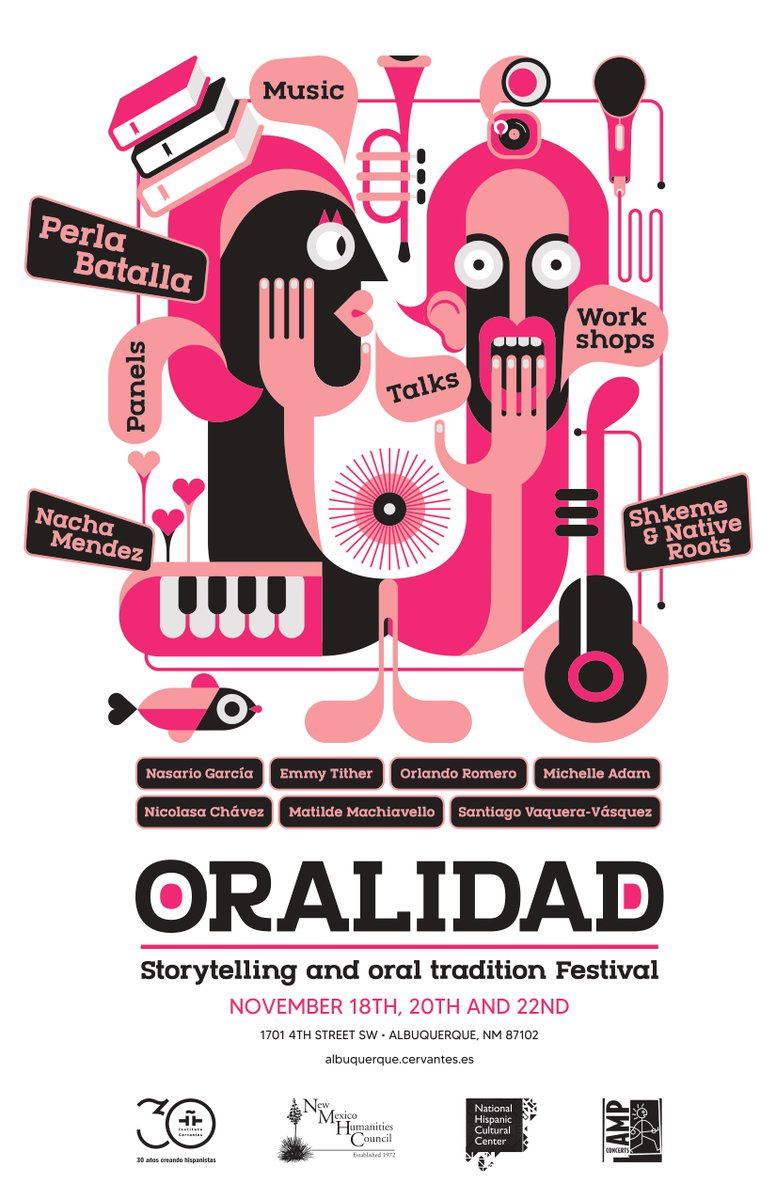 Festival Oralidad
November 22, 2021
Workshop, Matilde Machiavello—1 pm, Wells Fargo Auditorium
Presentation, Santiago Vaquera-Vásquez—4 pm, Wells Fargo Auditorium
Concert, Perla Batalla—6:30 pm, Bank of America Theatre
Workshop and presentation free to the public; concert tickets $17, $27, $37 w/ $2 discount for NHCC members, purchase Here
Instituto Cervantes and the National Hispanic Cultural Center, with the collaboration of AMP Concerts and the support of the New Mexico Humanities Council, present the first Festival Oralidad on November 18, 20, and 22, 2021. The festival combines workshops, lectures, panel discussions, storytelling performances, and musical performances connected to the oral tradition and storytelling. It was created with two essential purposes: the promotion of the oral tradition of storytelling and the establishment of a collaborative relationship among artists from New Mexico, other parts of the United States, Spain, and Latin America to create new works together and contribute to the advancement of the genre.
New Mexico, where Native American cultures, Latin American oral tradition, and cultural traditions such as flamenco converge, is an ideal place for a festival focused on the oral tradition, and Instituto Cervantes is positioned to encourage this union of cultures and promote an exchange between artists of diverse origins. Over three days, Festival Oralidad offers academic and theoretical debate, shares the secrets of storytellers with children, and brings together some of the most significant musicians and storytellers in the U.S. While travel restrictions this year have limited participation to artists residing in-country, future festivals will include colleagues from Latin America and Spain.
Born in Montevideo, Uruguay, educator Matilde Machiavello was trained in English language instruction and neurolinguistic programming in Buenos Aires, Argentina. She is also a team coach, Brain Gym 101 facilitator, and storyteller, with more than 20 years of experience working with individuals and teams to enhance talent and creativity. As a storyteller, she believes in the "magical power of stories" in shaping a new and ideal reality, and enjoys sharing stories in both Spanish and English and combining the different strategies in which she has been trained.
Santiago Vaquera-Vásquez is a Chicano storyteller, academic, and former associate professor at the University of New Mexico. He has taught classes on Mexican American border culture, Chicano culture, and creative writing, in colleges in the U.S., Latin America, and Europe. His books include Algún día te cuento las cosas, Luego el silencio, En el Lost 'n' Found, and his most recent work, Nocturno de Frontera; his stories have been published in anthologies and literary magazines in Spain, Italy, Mexico, and the United States.
Grammy-nominated singer-songwriter Perla Batalla earns critical acclaim for her distinctive voice, emotional honesty, and culture-merging compositions. She was born in Los Angeles to a family immersed in music. Her dad, a Mexican mariachi and D.J., and her Argentine mom ran the family record shop, Discoteca Batalla, where Perla was exposed to an education of non-stop music that cut across genres and languages.
After singing with and recording with numerous groups and artists, including Leonard Cohen, Perla launched her solo career with Cohen's encouragement. Since then, she has recorded seven albums, been featured in film and on television, staged two one-woman shows, and performed in some of the world's most prestigious venues.
Her original Frida Kahlo musical was chosen by the Ojai Playwrights Festival and subsequently produced at the San Diego Repertory Theater to critical praise. Perla's personal homage to her mentor, Cohen, continues to play to sold-out audiences throughout Europe and North America.
Perla's mission of exposing youth to the beauty of music and the Spanish language is ongoing in her outreach to some of the poorest communities in the U.S. She has been honored with two U.N. awards: the Earth Charter Award for extraordinary devotion to social and economic justice and he Environmental Peacebuilding Award, for advancing social justice through music. She is also the recipient of New Mexico's Premio Fronterizo Award for healing work in the world.
This concert will require either a proof of vaccination completed at least 14 days prior to the event or a negative COVID test administered by a health care professional within 72 hours of the event. Originals or photos of documents with a matching ID will be accepted. Masks are also required while inside the NHCC.
Event Navigation
Related Events