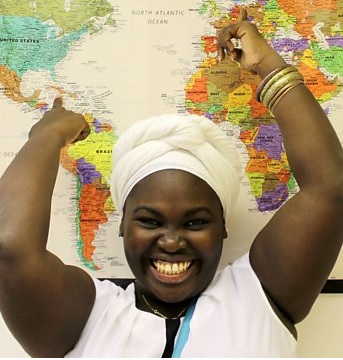 Festival Chispa Presents: Daymé Arocena
August 11, 2017
7:30 pm
Raised in Havana, award-winning Afro-Cuban singer-songwriter Daymé Arocena has quickly become the voice for a new generation of talented Cuban millennials who are reimagining their African roots through a lens that filters jazz, Cuban neo-soul, funk, and hip hop. Still in her mid-20s, she has been described as "Cuba's finest young female singer" (The Guardian). She began performing semi-professionally at the age of eight, and became the lead singer for the band Los Primos at fourteen. Considered a musical prodigy, she is also a trained composer, arranger, choir director, and band leader.
Her devotion to Afro-Cuban culture and to the Afro-Cuban Santería faith, with its traditional chants and repertoire, combined with an ability to absorb music of any kind, have made Arocena one of the most exciting, charismatic artists on the contemporary music scene. Her work encompasses the classic rhythms and diverse musical make-up of the country she grew up in, while reaching outward to the world she has encountered in her recent travels.
Daymé Arocena has been compared to both Celia Cruz and Aretha Franklin, and her debut album, Nueva Era, made National Public Radio's list of 50 favorite albums of 2015. Her latest release, Cubafonía, is already garnering rave reviews around the world.
Festival Chispa Presents, a partnership with Avokado Artists, is a series that showcases some of the finest and most innovative groups, both legendary and up-and-coming, that the Latino world has to offer. Fusing various musical genres, cultures, and traditions, this dynamic series breaks down musical boundaries and leaves the audience wanting more!
$22, $27
Event Navigation
Related Events