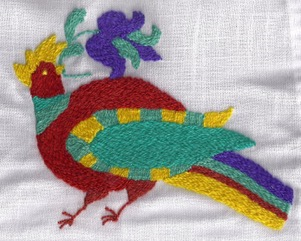 Colcha Class
August 12, 2017
9 am
Annette Gutierrez Turk is offering a three-hour class in Spanish Colonial colcha embroidery, giving participants the opportunity to learn the history of this New Mexican style of embroidery. All materials are furnished, and the class is limited to 15 students, ages 12 to adult. The class project will be the creation of the colorful bird featured above.
Annette is a ninth generation New Mexican, born and raised in Albuquerque. She is a Spanish Market artist, juried for weaving and colcha embroidery, and a volunteer at El Rancho de Las Golondrinas with the Weaving Group, where she demonstrates wool processing techniques including spinning, weaving, dyeing, and colcha embroidery.  Her colcha group meets monthly at the NHCC to practice, improve, and inspire one another.
To register, email Annette at colchera@comcast.net or call her at 505-238-7654.
$50; cash or check payable to the National Hispanic Cultural Center Foundation at the time of the class
Related Events