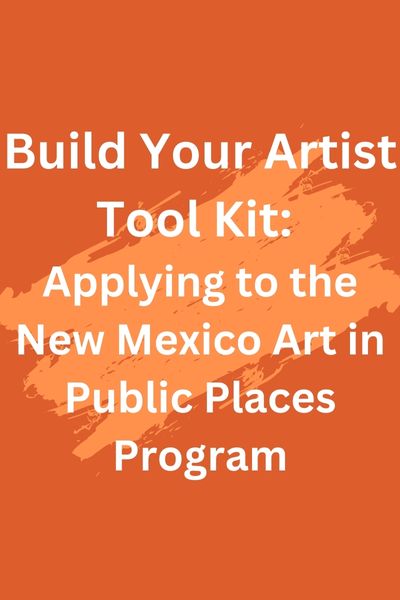 Build Your Artist Tool Kit: Applying to the New Mexico Art in Public Places Program with Meredith Doborski
November 19, 2022
10:30 am
The NHCC is committed to helping visual artists strengthen their business skills and increase awareness of opportunities available for artists. As part of the NHCC's Business Basics for Visual Artists series, join us for this free workshop and learn about what it takes to submit a successful application and how your artwork can be selected for permanent display in a public building somewhere in NM! Topics that will be covered in this workshop include the following:
What is New Mexico Arts?
What is the Art in Public Places Program?
AIPP Purchase Initiatives
Purchase Program Site-Specific Commission Program
How to Participate
How to Successfully Apply as an Artist & Tips and Tricks
This is a free community event. Please register here and before the event you will be sent the ZOOM link to attend.
As the State of New Mexico Public Arts Program Director, Meredith Doborski works with local and regional artists to enrich New Mexico communities through the purchase and commission of innovative and diverse public art. Committed to strengthening the arts in New Mexico, Meredith has dedicated her career to community-based and nonprofit work. With a background as a visual artist, arts educator, and graphic designer Meredith continues to utilize her skillset to make the arts more accessible to all New Mexicans. Meredith holds a BFA in Print Media from the Alberta University of the Arts (formally Alberta College of Art + Design) and an MA in Art Education from University of NM.
New Mexico Arts is a State Arts Agency and a division of the Department of Cultural Affairs, New Mexico Arts facilitates a number of state and federally funded programs in all 33 counties including: Art in Public Places (AIPP), Cultural Investment (Grants), Arts and the Military, Folk Arts, Arts Education, Poetry Out Loud, Governor's Awards for Excellence in the Arts, and more! The Art in Public Places program started when the Art in Public Places act was signed into law in 1986. In short, this statute states that any public building (such as libraries, schools, community centers, universities, etc.) that is allocated Capital Outlay funding by the state legislature, 1% of those total funds must be set aside for the acquisition of public art for that site. The AIPP team connect local artists with sites through the acquisition process to secure diverse/permanent/public art utilizing these funds.
Save the date for the continuations of our Build Your Artist Toolkit series coming on February 11, 2023!
Event Navigation
Related Events