Upcoming Events
6 pm (MST)
Live Via Zoom. Register HERE
Mona is a Millennial perfectionist who fails upwards in the midst of the 2008 economic crisis. Despite her potential, and her top-of-her-class college degree, Mona finds herself unemployed, living with her parents, and adrift in life and love. Mona's the sort who says exactly the right thing at absolutely the wrong moments, seeing the world through a cynic's eyes. In the financial and social malaise of the early 2000s, Mona walks a knife's edge as she faces down unemployment, underemployment, the complexities of adult relationships, and the downward spiral of her parents' shattering marriage. The more Mona craves perfection and order, the more she is forced to see that it is never attainable. Mona's journey asks the question: When we find what gives our life meaning, will we be ready for it?
Free community event
Book: $15.95
6 pm (MST)
Live Via Zoom. Register HERE
Hakim Bellamy's latest collection rings with the same power and grace as the people he lauds within its pages, including Nikki Giovanni and Martin Luther King Jr. He celebrates Albuquerque and New Mexico, taking the good with the bad, and reminds Bur-queños that any day when you wake up along the Río Grande is a good day. As Bellamy celebrates the power of creativity and community within the city and the nation, he also demands that we face our society's faults, especially those of racism, racial profiling, and law-enforcement violence. The poems collected here insist that with the power to do right, people also have a responsibility to themselves, their loved ones, and complete strangers to be better and strive harder. Undoubtedly Bellamy is leading this charge, lighting the way for anyone ready to listen.
Free community event
Book: $18.95
5:30 pm (MST)
Live via Zoom
To join, contact cassandra.osterloh@state.nm.us
"In the 1950s, tensions remain high in the border town of La Frontera. Penny loafers and sneakers clash with boots and huaraches. Bowling shirts and leather jackets compete with guayaberas. Convertibles fend with motorcycles. Yet amidst the discord, young love blooms at first sight between Fulgencio Ramirez, the son of impoverished immigrants, and Carolina Mendelssohn, the local pharmacist's daughter. But as they'll soon find out, their bonds will be undone by a force more powerful than they could have known.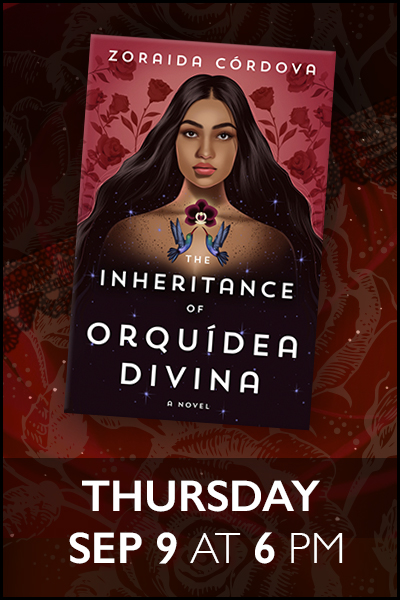 6 pm
Live Via Zoom. Register HERE
The Montoyas are used to a life without explanations. They know better than to ask why the pantry never seems to run low or empty, or why their matriarch won't ever leave their home in Four Rivers—even for graduations, weddings, or baptisms. But when Orquídea Divina invites them to her funeral and to collect their inheritance, they hope to learn the secrets that she has held onto so tightly their whole lives. Instead, Orquídea is transformed, leaving them with more questions than answers.
Free community event
Book: $27.00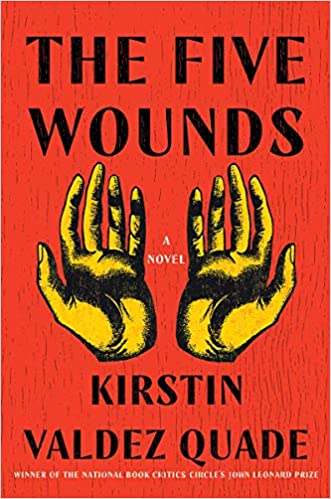 5:30 pm (MST)
Live via Zoom
To join, contact cassandra.osterloh@state.nm.us
"From an award-winning storyteller comes a stunning debut novel about a New Mexican family's extraordinary year of love and sacrifice.
The Five Wounds is a miraculous debut novel from a writer whose stories have been hailed as "legitimate masterpieces" (New York Times). Kirstin Valdez Quade conjures characters that will linger long after the final page, bringing to life their struggles to parent children they may not be equipped to save." – Goodreads
Free community event
3 pm (MST)
Live Via Zoom. Register HERE
The Blood Poems is one part bloodletting, one part healing, and one part sensuous celebration as Jessica Helen Lopez lays out what it means to be a strong brown woman, a single mother, and the kickass bard that the twenty-first century needs. Lopez openly faces a damaging childhood, sex, divorce, and racial injustice in these poems. She proves that love is as complicated as lovemaking — messy and lusty, raucous and powerful, capable of amazing highs and abysmal lows. She proves that when a woman learns to love herself, she will live a fierce and full life and teach her daughters to do the same.
Free community event
Book: $18.95
5:30 pm (MDT)
Live via Zoom
To join, contact cassandra.osterloh@state.nm.us
"It is 1898, and groups of starving Puerto Ricans, los hambrientos, roam the parched countryside and dusty towns begging for food. Under the yoke of Spanish oppression, the Caribbean island is forced to prepare to wage war with the United States. Up in the mountainous coffee region of Utuado, Vicente Vega and Valentina Sanchez labor to keep their small farm from the creditors. When the Spanish-American War and the great San Ciriaco Hurricane of 1899 bring devastating upheaval, the young couple is lured, along with thousands of other puertorriqueños, to the sugar plantations of Hawaii—another US territory—where they are confronted by the hollowness of America's promises of prosperity. Writing in the tradition of great Latin American storytelling, Marisel Vera's The Taste of Sugar is an unforgettable novel of love and endurance, and a timeless portrait of the reasons we leave home." – Goodreads
Free community event
5:30 pm (MST)
Live via Zoom
To join, contact cassandra.osterloh@state.nm.us
"The Wind That Lays Waste begins in the great pause before a storm. Reverend Pearson is evangelizing across the Argentinian countryside with Leni, his teenage daughter, when their car breaks down. This act of God or fate leads them to the workshop and home of an aging mechanic called Gringo Brauer and a young boy named Tapioca.

5:30 pm (MST)
Live via Zoom
To join, contact cassandra.osterloh@state.nm.us
"In Once I Was You, Maria shares her intimate experience growing up Mexican American on the south side of Chicago and documenting the existential wasteland of immigration detention camps for news outlets that often challenged her work. In these pages, she offers a personal and eye-opening account of how the rhetoric around immigration has not only long informed American attitudes toward outsiders, but also enabled willful negligence and profiteering at the expense of our country's most vulnerable populations—charging us with the broken system we have today.
(more…)
+ Export Events