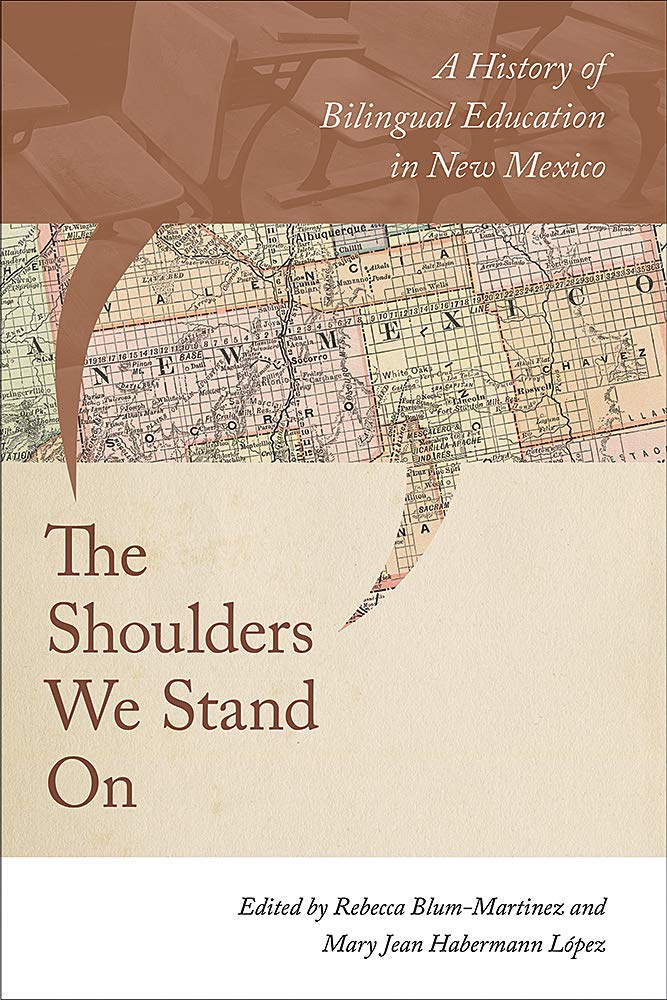 Virtual Reading and Discussion: Rebecca Blum-Martínez and Mary Jean Habermann López, The Shoulders We Stand On
November 18, 2020
6 pm (MDT)
RSVP for the online event: Resister HERE
Virtual Reading and Discussion: Rebecca Blum-Martínez and Mary Jean Habermann López, Editors, The Shoulders We Stand On: A History of Bilingual Education in New Mexico (University of New Mexico Press, 2020)
Presented by Bookworks, the National Hispanic Cultural Center, and the University of New Mexico Press. The Shoulders We Stand On traces the complex history of bilingual education in New Mexico, covering Spanish, Diné, and Pueblo languages. The book focuses on the formal establishment of bilingual education infrastructure and looks at the range of contemporary challenges facing the educational environment today.
The book's contributors highlight particular actions, initiatives, and people that have made significant impacts on bilingual education in New Mexico, and they place New Mexico's experience in context with other states' responses to bilingual education. The book also includes an excellent timeline of bilingual education in the state. The Shoulders We Stand On is the first book to delve into the history of bilingual education in New Mexico and to present New Mexico's leaders, families, and educators who have pioneered program development, legislation, policy, evaluation, curriculum development, and teacher preparation in the field of bilingual multicultural education at state and national levels.
Rebecca Blum Martínez is Professor of Bilingual Education in the Department Language Literacy and Sociocultural Studies at the University of New Mexico, where she specializes in bilingualism, second language learning and language maintenance and revitalization in language minority communities—particularly Spanish-speaking and American Indian populations.
Mary Jean Habermann López' leadership in bilingual education spans more than 40 years, including directing the New Mexico and Title VII Bilingual/Multicultural Education Program for 15 years. During her tenure at the New Mexico Department of Education, some of Habermann López' accomplishments include initiating the first dual language immersion programs in the state, establishing agreements with ministers of education in Mexico for professional development and teacher exchanges, and assisting with policy development for the U.S. Department of Education and U.S. Office of Civil Rights.
For more information please click HERE
Event Navigation
Related Events