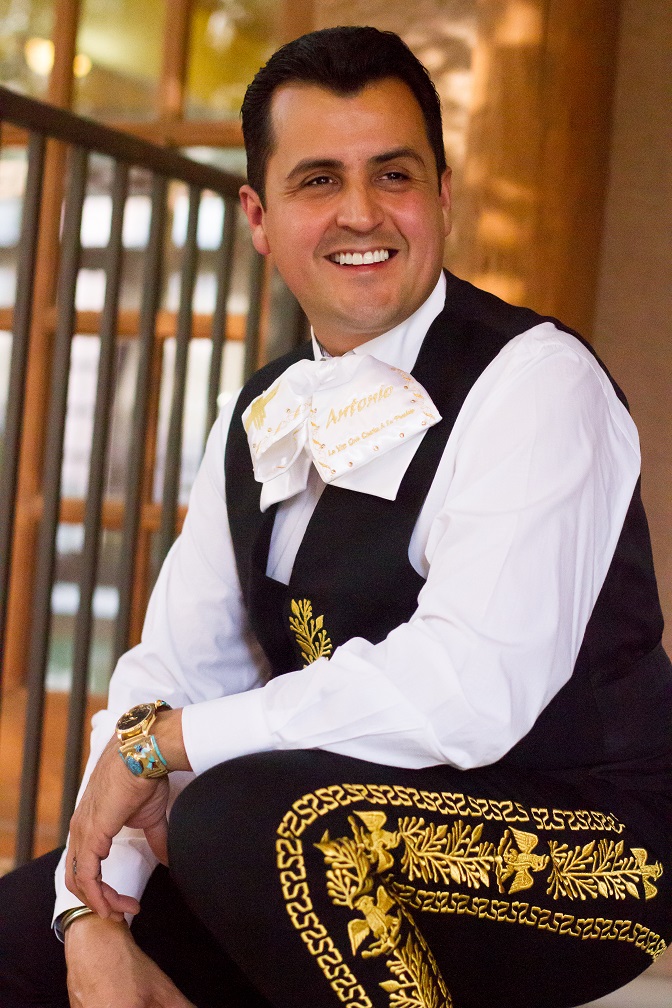 Una Celebración de México with Antonio Reyna
May 6, 2018
2 pm
The NHCC and Haverland Carter Lifestyle Group present Una Celebración de México, paying tribute to the beautiful song and dance of Mexico with award-winning, internationally renowned mariachi recording artist Antonio Reyna and a cast of talented musicians and performers. Reyna is joined by Mariachi Femenil Flores Mexicanas, with special guests Reynaldo Maestas and Baile Ilusión.
$22 w/ $2 discount for seniors, children 12 and younger, and NHCC members
Celebrating 22 years as an entertainer, Antonio Reyna is a New Mexican treasure who is beloved throughout the Southwest and Mexico, and whose performances have influenced the trajectory of traditional mariachi music. Born in Gallup, NM, he began his career as a mariachi vocalist in 1996, touring with Nelson Martinez before going solo in 2002. In the course of his career, he has received numerous awards from the New Mexico Hispano Music Association and the New Mexico Hispano Entertainers Association and has released five albums. His latest album, Recordando a José Alfredo Jiménez, continues to generate international recognition.
Established in 2001, El Paso's Mariachi Femenil Flores Mexicanas is recognized as the premiere all-female mariachi group in the Southwest, with a repertoire that includes boleros, huapangos, corridos, sones, cumbias, and more. The group has shared the stage with world-renowned mariachi groups including Mariachi Vargas, Mariachi Los Camperos de Nati Cano, and Grammy-nominated Mariachi Sol de México de José Hernández, as well as international recording artists Lila Downs and Ozomatli.
From Rociada, NM, mariachi soloist Reynaldo Maestas has been performing for 12 years throughout New Mexico and the southwest. He has recorded two CDs, and received seven New Mexico Hispano Music Association nominations. In 2012, he accompanied other New Mexico groups to represent the state and the U.S. at the Summer Olympics in London. Together with Antonio Reyna, he shares his unique, passionate interpretations of mariachi repertoire in this joyous celebration of the music and dance of Mexico.
Baile Ilusión, from Pojoaque, NM, was established in 1999. The all-age group performs traditional Mexican ballet folklórico, sharing the colorful costumes and intricate footwork of dances from the states of Jalisco, Veracruz, Chihuahua, and Sinaloa.
Related Events