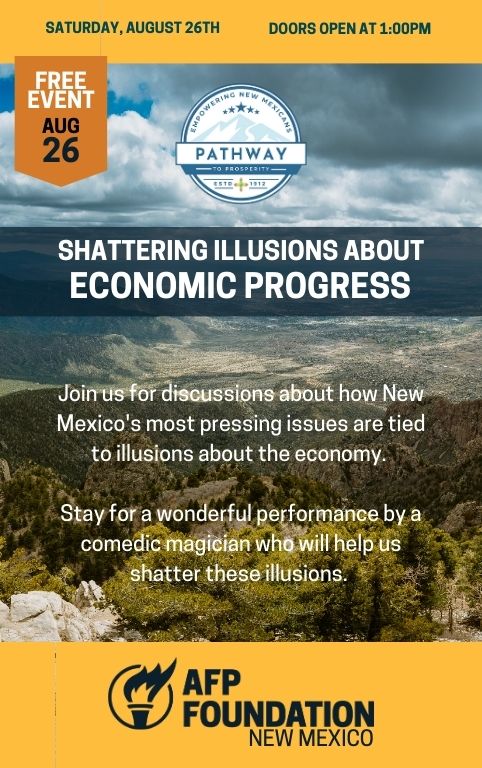 Pathway to Prosperity: Shattering Illusions about Economic Progress
August 26
This event has been canceled.
2:00 pm
Are New Mexicans doomed to live in poverty? What is the economic impact of the issues that are important to us, like education, criminal justice, immigration, and veteran's care? How can we overcome the polarization that divides us so that we can collaborate and solve these problems in ways only New Mexicans can?
Keynote Speaker: Per Bylund, author of How to Think About the Economy: A Primer. Special Guest Performance: Doc Dixon, Comedic Magician. Other Speakers: Jonathan Olivas, Lucas Gauthier, Kiran Hill, Burly Cain, and Kerry Baldwin.
Join us, on the Pathway to Prosperity, as we shatter the illusions to economic progress for all New Mexicans. Doors open 1:00pm. Event begins 2:00pm. Meet & Greet 5:00pm. Doors close 6:00pm.
Free Community Event
The event is a rental event not an NHCC production. The title, content, photos/images and description for this event were provided to the NHCC by the organization renting the NHCC venue for the event. By serving as a venue and posting the event on its website, the NHCC is not endorsing any views expressed in the title or description of the event, nor is it endorsing the content of the event.
Reserve Here
Related Events