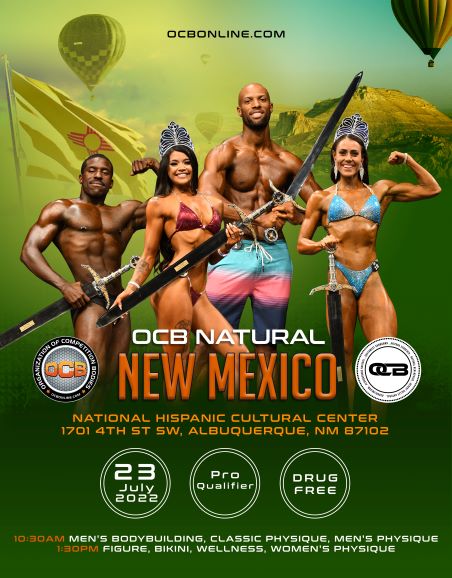 OCB Natural New Mexico
July 23, 2022
10:00 am to 6:00 pm
OCB Natural New Mexico. This year's competition will be held at the National Hispanic Cultural Center's Albuquerque Journal Theatre in Albuquerque, NM on Saturday, July 23, 2022. The OCB Natural New Mexico is a drug free tested competition.
$50 adults, $15 Minors 4 years old to 12 years old, Free for Kids younger than 4. $70 Assistant Ticket/Back Stage Pass
The title, content, photos/images and description for this event were provided to the NHCC by the organization renting the NHCC venue for the event. By serving as a venue and posting the event on its website, the NHCC is not endorsing any views expressed in the title or description of the event, nor is it endorsing the content of the event.
Click thumbnail for a larger poster:

Event Navigation
Related Events