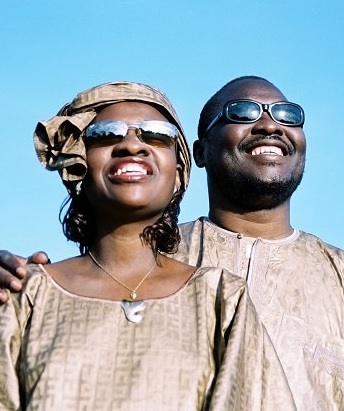 From Bamako to Birmingham: Amadou & Mariam and Blind Boys of Alabama
May 7, 2022
7:30 pm
AMP Concerts presents "From Bamako to Birmingham"—a culturally satisfying fusion with Afro-pop duo Amadou & Mariam and soulful gospel group Blind Boys of Alabama coming together to combine contemporary African contemporary African sounds and African-American roots music.
$36, $46 & $56
Approximate time of event: 2 hours including intermission
The Blind Boys of Alabama are recognized worldwide as living legends of gospel music. Celebrated by the National Endowment for the Arts (NEA) and the National Academy of Recording Arts and Sciences (NARAS) with Lifetime Achievement Awards, inducted into the Gospel Music Hall of Fame, and winners of five Grammy Awards, they have reached the highest levels of achievement in a career that spans over 70 years. The Blind Boys are known for crossing multiple musical boundaries with their remarkable interpretations of everything from traditional gospel favorites to contemporary spiritual material by songwriters such as Eric Clapton, Prince, and Tom Waits. They have appeared on recordings with many other artists, including Lou Reed, Peter Gabriel, Bonnie Raitt, Willie Nelson, Aaron Neville, Susan Tedeschi, Ben Harper, Patty Griffin, and Taj Mahal.
For the past forty-odd years, Amadou & Mariam have managed to joyfully combine their love story with a musical career while becoming, discreetly but surely, the most famous ambassadors for Malian and African music around the world. They carry this status with brio, and challenge it playfully with each new album. They have collaborated with many diverse artists and worked with producers who might seem far removed from their universe, such as Damon Albarn of Blur and Manu Chao. They have invited the most accomplished artists who are building tomorrow's pop music to play on their lively songs (Santigold, TV on the Radio, the Yeah Yeah Yeahs), and their tracks have been remixed by Yuksek, Vitalic, Henrik Schwarz, Miike Snow, and Ashley Beedle, underlining their intrinsically danceable quality. Amadou & Mariam have also played the world's biggest festivals, from Coachella to Glastonbury, and opened for huge bands such as Coldplay and the Scissor Sisters. By enriching their Afro-pop canvas with new pigments, as well as introducing the richness and subtleties of African music to the world, the duo has brought this music to the charts and to the dance floor.
The title, content, photos/images and description for this event were provided to the NHCC by the organization renting the NHCC venue for the event. By serving as a venue and posting the event on its website, the NHCC is not endorsing any views expressed in the title or description of the event, nor is it endorsing the content of the event.
Event Navigation
Related Events