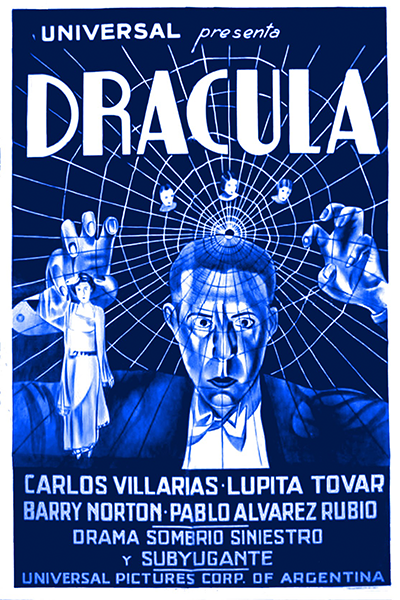 Fright Night Film Screening: Dracula
October 20
10:30 pm
Renfield, a solicitor, makes a journey into Transylvania via stagecoach. He mentions his destination, Castle Dracula, to the locals who react with alarm. They tell him Drácula is a vampire and when he doesn't believe them, one insists he wear a cross. When he arrives at the Castle, the Count bids him welcome. After drinking drugged wine, Renfield collapses, still wearing the cross, and is bitten. Aboard ship, a now-enslaved Renfield laughs maniacally below as Drácula picks off the crew one by one. When the ship reaches England, he is the only living person found.
Free Community Event
Directors: George Melford | Adult Horror | 1931 (USA) | Run time: 104 min. | Not Rated: NR | Studio: Universal Pictures
Drácula meets Dr. Seward and his family at the opera. Lucía is completely fascinated by him and that night becomes his victim. Professor Van Helsing is called in, and he recognizes the danger for what it is. He also realizes that Dr. Seward's patient Renfield is somehow tied up in events. But soon after meeting the Doctor's new neighbor, Van Helsing figures out that Drácula is a vampire—based on the fact that Drácula casts no reflection in the mirror. By now, Seward's daughter Eva is falling under his spell. To her horror, she feels increasingly weak and also increasingly wild—at one point attacking her fiancé Juan. With Seward's and Harker's help, Van Helsing seeks to trap Drácula, who outwits them and escapes with Eva by seizing control of a nurse's mind. They follow Renfield into Carfax Abbey—an act which ends with Drácula killing his slave by strangulation, and then tossing him from a tall staircase. Deep in the catacombs under Carfax, they find Drácula asleep and Eva still alive. Van Helsing drives a stake through the vampire's heart, and as Eva and Harker leave, Van Helsing prays over Renfield's body.
Reserve Here
Event Navigation
Related Events