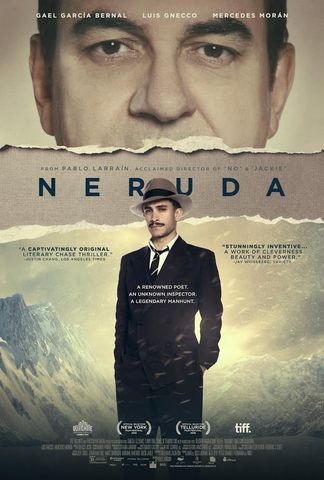 Film: Neruda
January 23, 2020
7 pm
In post-World War II Chile, a police prefect pursues Nobel Prize-winning poet Pablo Neruda, now a fugitive in his own country for joining the Communist Party. In this story of a persecuted artist and his obsessive adversary, Neruda sees his chance to become a symbol for liberty as well as a literary legend.
Directed by Pablo Larraín; Spanish with English subtitles; 107 minutes; rated R.
Presented as part of the Bank of America Free Thursday Film Series.
Free ticketed event; tickets available one hour before show
In February 2020, Opera Southwest and the NHCC will present the New Mexico premiere of Il Postino, an opera in three acts by Mexican composer Daniel Catán with a Spanish libretto by the composer. The work, based on the novel Ardiente paciencia by Antonio Skármeta and the film Il Postino by Michael Radford, adheres loosely to events in the life of Chilean poet Pablo Neruda, and integrates themes of love and friendship along with political and spiritual conflict.
Like Il Postino, Pablo Larraín's film Neruda is based loosely on events in the life of its subject, at a time when Chile's beloved poet has been forced into hiding and is being pursued by his would-be nemesis, the police inspector Peluchonneau. Larraín describes the film as "Nerudian"—not a biopic, despite its title, but rather, an "invention informed by biography."
We hope that our audiences will enjoy both these explorations of the rich and complex cosmos created by the life and work of this extraordinary artist.
Event Navigation
Related Events