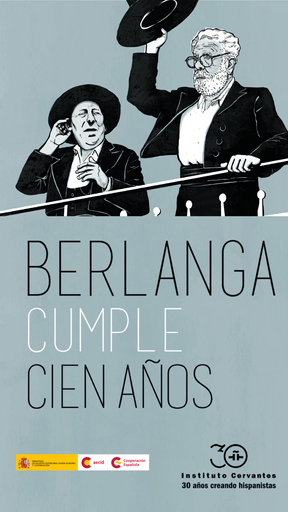 Film: Berlanga cumple cien años, Calabuch
June 11, 2021
12 pm (MST)
Available for 48 hours
Instituto Cervantes Vimeo Channel HERE
An illustrious American rocket scientist, wearied of working on atomic bombs and increasingly concerned about their destructive potential, flees the country to find refuge in Calabuch, a small village on Spain's Mediterranean coast, in Berlanga's 1956 film of the same name. First taken for a smuggler's accomplice and then for a kindly tramp, he soon blends into the everyday life of the community, but when he helps his neighbors win a fireworks competition, the international authorities discover his whereabouts.
Spain/Italy; 1956; Spanish with English subtitles; 92 minutes; not rated.
Free community event
Luis García Berlanga is one of the most renowned directors in the history of Spanish cinema. His long and fruitful film career, his unmistakable creative hallmarks, his corrosive humor, and his work in directing some of the great classics of the 20th century all merit the tribute of this on-line film series, presented on the centenary of his birth. In June, Instituto Cervantes showcases four films that represent the trajectory of Berlanga's career and demonstrate his evolution as a filmmaker.
Berlanga cumple cien años: Film Schedule
June 4: Esa pareja feliz (Luis García Berlanga & Juan Antonio Bardem, 1951)
June 11: Calabuch (Luis García Berlanga, 1956)
June 18: Plácido (Luis García Berlanga, 1961)
June 25: Patrimonio nacional (Luis García Berlanga, 1981)
Event Navigation
Related Events