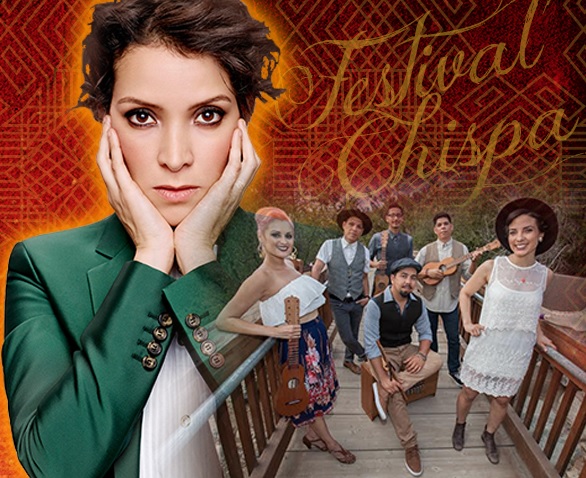 Festival Chispa Presents: Gaby Moreno & Las Cafeteras
June 24, 2017
8 pm
Festival Chispa, a celebration of New Latin music in partnership with Avokado Artists, presents Latin Grammy award-winning singer-songwriter Gaby Moreno and the incredible L.A.-based Latin alternative band Las Cafeteras.
Born and raised in Guatemala, singer/songwriter Gaby Moreno was captivated in her youth by the sounds of the blues, soul, and jazz, and now calls Los Angeles home. Mixing English and Spanish vocals in elegant harmonies, she was awarded the Latin Grammy for Best New Artist in 2013. Her albums include Still the Unknown (2008), Illustrated Songs (2011), Postales (2012), Posada (2014). and Ilusión (2016), nominated for a Grammy for Best Latin Pop Album. She sings the theme song for Disney's animated television series Elena of Avalor, and is featured on the soundtrack for the 2017 film How to Be a Latin Lover, starring Selma Hayek, Eugenio Derbez, and Rob Lowe. Ilusión goes back to Moreno's beginnings, capturing the pure spirit of an aspiring immigrant artist who made her way in a new country with just her guitar, her extraordinary voice, and the songs she was eager to share. The bilingual refrain of the track "Fronteras" ("Borders") embodies the essence of the album and the artist's confident state of mind when she created it: "Y río y bailo. Está en mis venas. Y libre sueño. This is where I belong." ("And I laugh and dance. It's in my blood. And I dream free. This is where I belong.")
Las Cafeteras fuse the Afro-Caribbean roots and vibrant energy of traditional son jarocho with an edgy East Los Angeles alternative sound and a community-based political message, creating a new urban folk sound in both English and Spanish. The product and reflection of a diverse, hard-working, politically active neighborhood, they use their music to tell stories about the streets where they were raised, the communities they live in today and their dreams for the world they hope to see in the future. Their eclectic instrumentation includes jarana, requinto, quijada (a donkey's jawbone), marimbol (a West African bass instrument), cajón, tarima (the wooden platform traditionally used to dance zapateado), and Native American drum and flute. Their second studio album, Tastes Like L.A., features songs of activism and celebration and includes an updated version of their song "If I Was President." Blending Mexican folk traditions with hip hop flavors and political discourse, this bilingual song serves as a perfect summation of what the band is about. It is accompanied by an interactive video encouraging the public to submit their own verses and audio stems allowing remixers to make their own versions, engaging people's imaginations about the future of the country.
$27
The incredible LA-based Latin Alternative Band Las Cafeteras. You can check out some of their music on their website.
Grammy award winning singer-songwriter Gaby Moreno. Listen to her music on her website.
Presented in partnership with Avokado Artists
Related Events