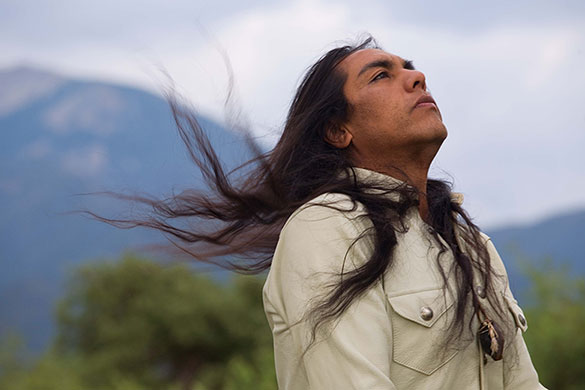 Festival Ballet Albuquerque: Sacred Journeys II
August 24, 2019 - August 25, 2019
Saturday, at 7 pm
Sunday at 2 pm
Classical and contemporary dance combine with the eclectic music of two-time Grammy award-winning Taos Pueblo musician Robert Mirabal in this reflection of New Mexican cultures through dance, music, and spoken word. Mirabal collaborates with internationally renowned New York City Ballet dancer Jock Soto, of Navajo and Puerto Rican descent; Soto, who is originally from Gallup, NM, and will also make guest appearances onstage, now lives in Eagle Nest, NM. Additional choreographers for the production are director Patricia Dickinson Wells, native New Mexican Dominic Guerra, and internationally known Vladimir Conde Reche, a native of São Paulo, Brazil. Additional guest artists include the Trujillo Family traditional Native American dancers.
$14, $20, $29, $39, $48 w/ a $2 discount for Seniors, Children 10 and younger and NHCC Members. Please join us for the VIP Meet and Greet After-Party with Robert Mirabal, Jock Soto and the cast for an additional $30 up-charge.
Robert Mirabal, dedicated to keeping alive the centuries-old customs of Taos Pueblo, is also a leading proponent of world music, and has merged his Indigenous American sound with the music of Africa, Asia, and the Caribbean, tapping into a planetary pulse with a style that defies characterization. His 2002 breakthrough PBS special, Music from a Painted Cave, is unsurpassed in Native American theatrical expression.
A former principal dancer with the New York Ballet, Jock Soto was one of the last dancers to be personally selected by founder George Balanchine when he was barely 16. He danced featured roles in over 40 ballets, of which more than 35 were created for him. The author of Every Step You Take and the subject of the documentary Water Flowing Together (the name of his Navajo clan), Soto teaches partnering and technique classes at the School of American Ballet, where he has been a permanent member of the faculty since 1996.
Sacred Journeys II brings together the rich and diverse culture of our state, while providing extraordinary role models for New Mexico's youth.
Thank you to our Performing Arts Season Sponsors Heritage Hotels and Resorts, the Albuquerque Journal and Southwest Airlines!
Related Events