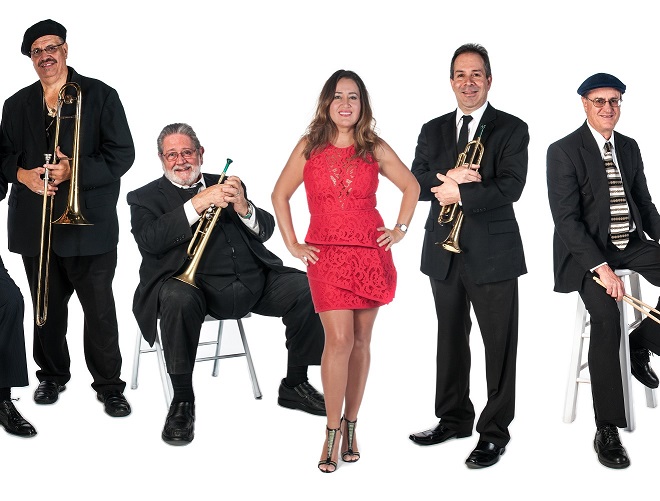 Chispa: NM Jazz Latino Orchestra, From the Beginning
January 13, 2018
8 pm
The first half of the New Mexico Jazz Latino Orchestra's latest offering, From the Beginning, celebrates the music written by and associated with the great Dizzy Gillespie. The featured artist, Bobby Shew on trumpet, is an international jazz star and a personal friend of Mr. Gillespie. Joining Mr. Shew is tenor saxophonist Doug Lawrence, who toured with Mr. Gillespie and his band in the 1980s; master Cuban musician César Bauvallet, who performed with Mr. Gillespie when he travelled to Havana on the 1970s, leads the rhythm section on congas.
The second half of the show features a tribute to the great Chabuca Granda, widely considered Peru's most legendary singer. NMJLO performs Ms. Granda's music in the "Salsa Criolla" style, in which salsa and jazz musicians present a blend of salsa repertoire with Afro‐Peruvian festejo backgrounds, synchronizing these two popular musical styles with traditional instrumentation to provide a blend of ancestral and contemporary tones. This year NMJLO is proud to present, directly from Lima, Peru, Tito Manrique. Mr. Manrique is a Salsa Criolla guitarist, composer, and arranger who enjoys immense popularity throughout South America, and who will bring with him brand new arrangements of music associated with Ms. Granda. Joining Mr. Manrique are brilliant vocalist Jackie Zamora (also from Lima) and César Bauvallet on trombone.
$27, $32 w/ $3 off for NHCC Members
Thank you to our Performing Arts Season Sponsors Heritage Hotels and Resorts, the Albuquerque Journal and Southwest Airlines!
Related Events