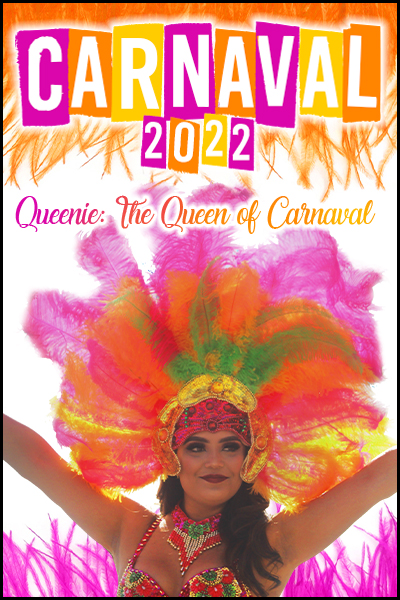 Carnaval 2022: Queenie, Queen of Carnaval
February 25, 2022 - February 26, 2022
7:30 pm
Carnaval, the festive season occurring before Lent in many countries, including Latin American and Caribbean nations as well as parts of the United States, is one of the world's most widespread celebrations and one of its biggest parties. Carnaval was first celebrated at the NHCC in 2002 and has been part of the Center's regular seasonal programming since 2006, with regular performances by presenting partners Frank Leto & PANdemonium and Pilar Leto & the Odara Dance Ensemble. Carnaval 2022 marks the NHCC's 16th annual Carnaval Celebration—a dazzling spectacle of vibrant dance, stirring music, colorful costumes, an engaging storyline, and special surprises. Based on a children's book of the same name, written by Frank Leto and illustrated by his six-year-old granddaughter, the show follows a little girl named Queenie as she learns how Carnaval is celebrated in a variety of locations.
$17, $22, $27 with $2 discount for seniors, children 12 and younger, & NHCC members
As the book is read to Queenie on stage, it will be projected on screen for the audience to view as well, alternating with live music and dance. This one-of-a-kind celebration features Frank Leto's original music based on Carnaval traditions of Brazil, Trinidad, Cuba, and New Orleans.
Frank Leto, leader and director of the band PANdemonium, with which he has recorded three world music CDs, is a multitalented instrumentalist who plays Brazilian and Afro-Cuban percussion and Trinidadian steel drums. His love for rhythms has taken him to Brazil, Puerto Rico, and Cuba; while in Cuba, he studied soneros, tres, and batá, as reflected in his original compositions and performances. Pilar Leto, founder and artistic director of the Odara Dance Ensemble, is a dancer, choreographer, and producer who has performed and taught Brazilian, Caribbean, and Afro-Cuban dance for over 25 years. She also studied in Cuba, with premier dancers of the Conjunto Folklórico Nacional and Raíces Profundas. Members of PANdemonium and the Odara Dance Ensemble, with extensive and impressive backgrounds in Latin percussion and dance, include César Bauvallet (trombone and musical director), Kanoa Kaluhiwa (saxophone), John Bartlit (drums), Howard Cloud (bass), Steve Figueroa (keyboards), Bo Razon (guitar), Tomas White (percussion), and dancers Evelyn Linzy, Victoria Gutierrez, Darrin Visarraga, and Amina Dunn, along with Frank Leto (steel drum, vocals), Pilar Leto, Ayden Ghoreishi from the NHCC's Circo Latino program (performing on stilts), and other special guest artist dancers.
COVID PROTOCOLS: 
This event will require either a proof of vaccination completed at least 14 days prior to the event or a negative COVID test administered by a health care professional within 72 hours of the event.  Originals or photos of documents with a matching ID will be accepted.  PANdemonium and the Odara Dance Ensemble respectfully requests visitors to wear masks during the performance.  
Event Navigation
Related Events