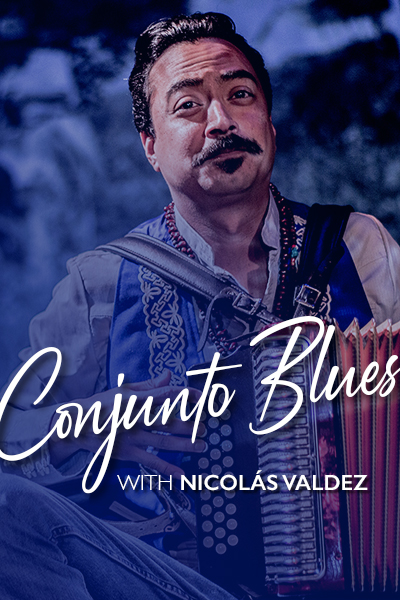 Workshop: Conjunto Blues
May 1, 2021
2 pm (MST)
Live via Zoom with suggested donation. Click here to donate. You may also email marmijo@nhccfoundation.org to register for any of these events. We will send you the link to the performance.
Nicolás Valdez will present an hour-long workshop and discussion live from his home, revolving around specific themes drawn from pre-recorded interviews and historical documentary footage that he has compiled. This workshop will explore the complexity of conjunto music's origins and evolution and its long-term impacts on the Mexican-American community, delving into topics including conjunto's campesino origins, its stylistic evolutions, women and the recording industry, and pachucos and the nightlife, and including ethnographic interviews with prominent figures in the conjunto music scene. The crux of the conversation will be the way in which the evolution of conjunto music parallels that of the Mexican-American identity.
"The focus of this work, for me, has always been to highlight the many contributions of the Mexican-American community to the cultural fabric of this country," says Valdez, "and to show audiences how conjunto music, an original and uniquely American form of musical expression, became the soundtrack for the 20th century Mexican-American working-class experience."
In Conjunto Blues, playwright, actor, and musician Nicolás Valdez explores the social and historical conditions that led to the development of conjunto music as an expression of cultural resistance and liberation. Centering on Valdez' personal experience growing up in the conjunto music scene, the work is loosely based on his relationship with his grandfather, also an aficionado of the music. Audiences are taken through a shifting landscape of memory and reflection that is highlighted throughout by traditional music performed live by Valdez and accompanied by musicians Luis Gonzalez on bajo sexto (12-string Mexican guitar), Sarah Rocha on tololoche (upright bass), and Joaquin Abrego on batería (drums). With a cast of colorfully poignant characters, Conjunto Blues is a deeply personal performance for viewers of all ages and backgrounds, and one that is sure to entertain as well as educate.
The world premiere of Conjunto Blues took place in Denver in 2013 with the support of Su Teatro, the National Endowment for the Arts, and the National Performance Network.  The work has also been performed at venues including Tucson's Fox Theater and San Antonio's Guadalupe Cultural Arts Center (GCAC), and as part of the Los Angeles Theater Company's Encuentro de las Américas. Conjunto Blues was adapted for online viewing in November of 2020 through collaborations with the GCAC and Teatro Vivo of Austin, Texas.
This performance, the Albuquerque premiere of Valdez' critically acclaimed work, is made possible through the generous sponsorship of AARP.  Access to the artist's live workshop on May 1 and to an AARP webinar on May 2, both described below, is free to members of the NHCC Foundation and AARP members, as well as to donors contributing $50 or more.
Related Events