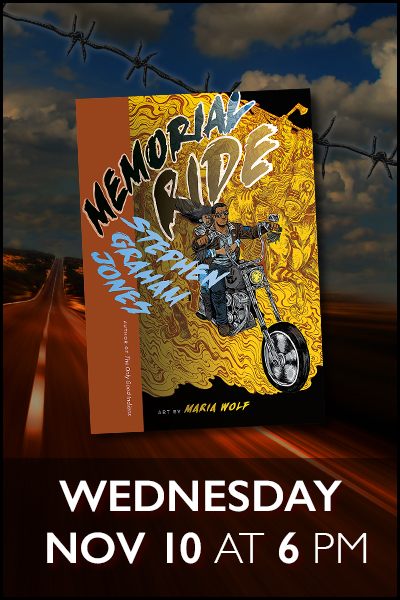 Virtual Book Reading and Discussion: Stephen Graham Jones, Memorial Ride
November 10, 2021
6 pm (MST)
Live Via Zoom. Register HERE
Memorial Ride is a high-speed, ragtag chase across the American Southwest. Cooper Town, an American Indian soldier, has returned from the Middle East to attend hi father's funeral, make some quick cash off his father's old Harley, and spend a whirlwind weekend with his girlfriend, Sheri Mun. However, when Coop runs afoul of the violent John Wayne gang, he and Sheri Mun have no choice but to twist the throttle back on that storied chopper and make tracks. In the spirit of Billy Jean, but fully aware of Billy Jack, Coop and Sheri Mun's race to survive is full speed ahead with many potholes in their path. Turning the traditional Western on its head, Memorial Ride recasts the genre as a road movie. It's raucous, it's violent, and, scarily enough, it might even be true. In short, this graphic novel delivers the storytelling prowess of Stephen Graham Jones through Maria Wolf's artwork, and the result is a ride you'll want to take again and again.
Free community event
For more information, please, contact Dr. Patricia Marie Perea by emailing her at Patricia.perea@state.nm.us
Book: $24.95
Presented by Bookworks, History and Literary Arts Program/NHCC and UNM Press.
Related Events