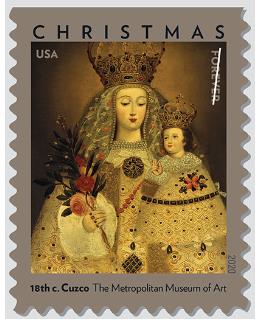 US Postal Service Release of Our Lady of Guápulo Stamp
October 20, 2020
9:30 am (MTS)
A virtual first day of issue ceremony held on the Postal Service's Facebook and Twitter pages:
usps.com/guapulo, facebook.com/USPS, and twitter.com/USPS
The United States Postal Service is partnering with the National Hispanic Cultural Center (NHCC) on the release of the Our Lady of Guápulo Christmas forever stamp.
The event will include remarks from Postal Service Vice President for Retail and Post Office Operations Angela Curtis and NHCC Art Museum and Visual Arts Program Director and Chief Curator Dr. Tey Marianna Nunn, and entertainment will be provided by NHCC History and Literary Arts Program Director Valerie Martinez and the Harlem School of the Arts.
Designed by Greg Breeding, the stamp features a detail of "Our Lady of Guápulo," an 18th-century oil painting by an unknown artist in Cuzco, Peru, from the collection of the Metropolitan Museum of Art in New York. Enrobed in a pyramidal gown speckled with jewels and holding a scepter woven with roses and leaves, a crowned Virgin Mary looks down at a similarly adorned Christ child in her left arm. A red rosary ropes across the center of her dress and down to her right.
Between the 16th and 18th centuries, European painters worked with indigenous artists in and around Cuzco. The Europeans trained local artists in styles and forms that dominated their home countries at the end of the Renaissance period and during the Baroque era.
Our Lady of Guápulo is a local variant of the Virgin of Guadalupe in Extremadura, Spain. The image venerated as Our Lady of Guápulo originated as a sculpture, commissioned in Quito, Ecuador, in 1584 and transferred to a chapel in the nearby village of Guápulo in 1587.
Event Navigation
Related Events