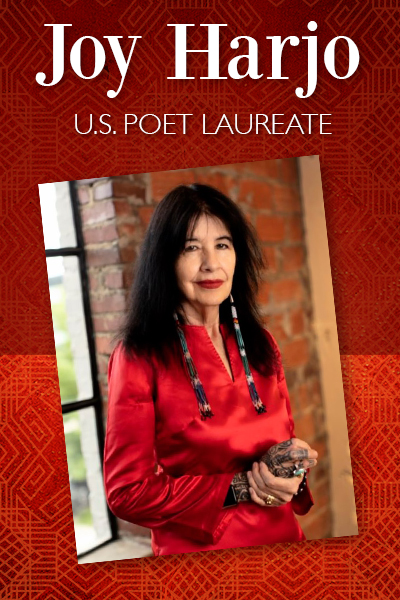 Tenth Annual Rudolfo and Patricia Anaya Lecture on the Literature of the Southwest: U.S. Poet Laureate Joy Harjo
October 5, 2021
THIS EVENT HAS GIVEN AWAY ALL OF THE TICKETS. IT IS SOLD OUT.
COVID PROTOCOLS: 
This event will require either a proof of vaccination completed at least 14 days prior to the event or a negative COVID test administered by a health care professional within 72 hours of the event.  Originals or photos of documents with a matching ID will be accepted.  Masks are also required while inside the NHCC.
7 pm (MST)
Free and open to the public. Tickets will be available on Friday, September 3rd at 10 am
The National Hispanic Cultural Center's History and Literary Arts Program and the University of New Mexico's Department of English present a reading, performance, and talk by U.S. Poet Laureate Joy Harjo as the Tenth Annual Rudolfo and Patricia Anaya Lecture on the Literature of the Southwest. Born in Tulsa, Oklahoma, Harjo attended the Santa Fe Indian School and was a faculty member at the University of New Mexico. She is a member of the Myskoke/Creek Nation, and an award-winning writer, performer, and saxophone player. Harjo's numerous publications include nine books of poetry, a memoir, a young adult novel, a children's book, and five CDs featuring her poetry and music. She recently released her sixth CD, I Pray for My Enemies.
In 2019, Harjo was named the 23rd U.S. Poet Laureate—the nation's first Native American to receive such an honor. She was reappointed to a second term in April, 2020, and a third term in November, 2020. Her other prestigious awards include the Ruth Lily Poetry Prize, the Academy of American Poets Wallace Stevens Award, a PEN U.S. Literary Award for Nonfiction, two National Endowment for the Arts fellowships, and a Guggenheim Fellowship. Harjo is Chancellor for the Academy of American Poets and Chair of the Board of Directors for the Native Arts and Cultures Foundation, and currently holds a Tulsa Artist Fellowship.
Event Navigation
Related Events