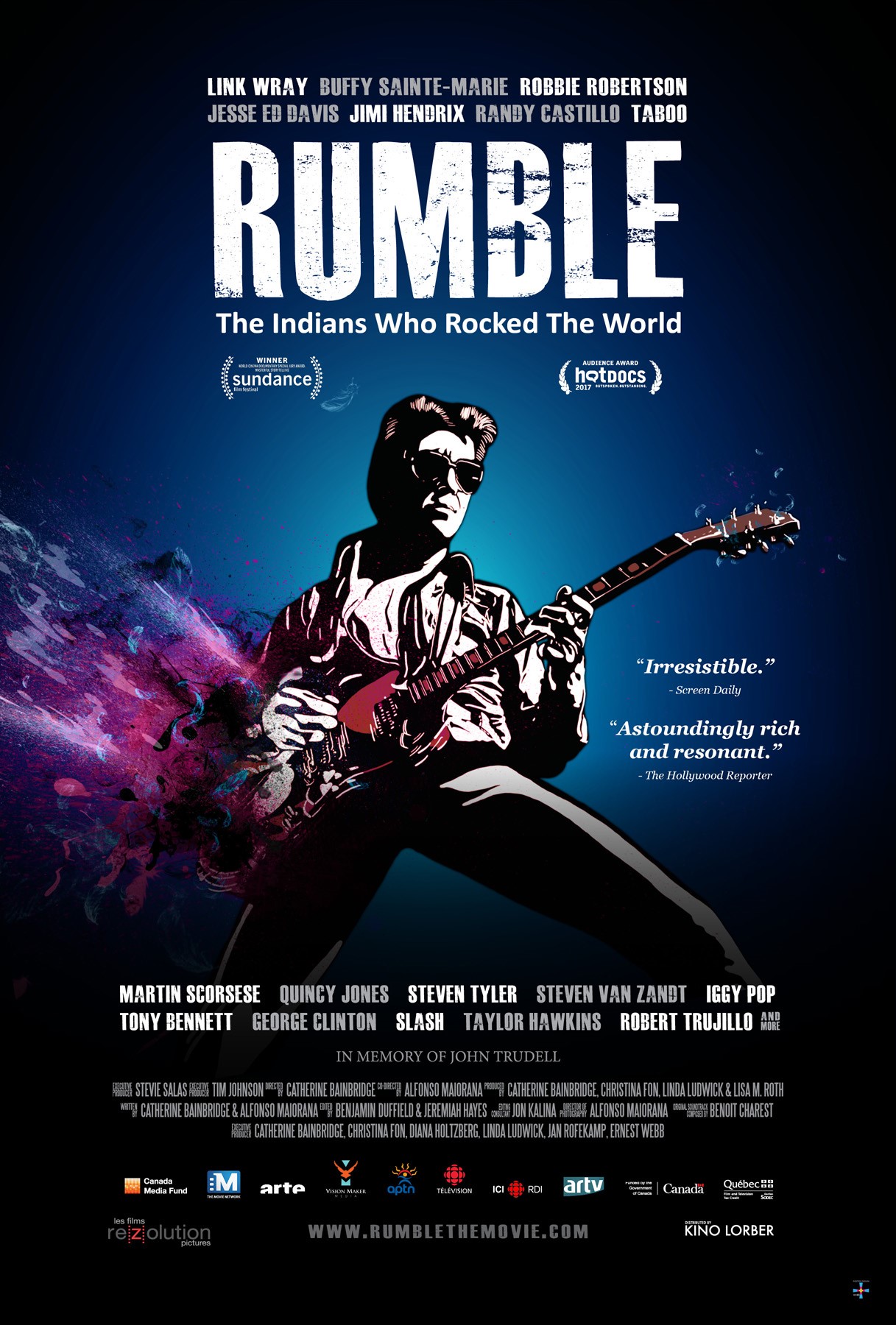 Rumble: The Indians Who Rocked the World
October 12
5:00 pm – 7:00 pm: Food Trucks, Cash Bar & Pop Fizz
5:30 pm – 7:00 pm: Music by Lindy Vision
7:00 pm – 9:15 pm: Rumble Screening
Rumble: The Indians Who Rocked the World is a feature documentary about the role of Native Americans in popular music history.
Rumble: The Indians Who Rocked the World brings to light a profound and missing chapter in the history of American music: the Indigenous influence. Featuring music icons Charley Patton, Mildred Bailey, Link Wray, Jimi Hendrix, Jesse Ed Davis, Buffy Sainte-Marie, Robbie Robertson, Randy Castillo, and Taboo, Rumble shows how these pioneering Native musicians helped shape the soundtracks of our lives.
Free Community Event, please register below.
Rumble has a long list of music artists, historians, family members, and experts participating in the film, including: Buddy Guy, Steven Van Zandt, Tony Bennett, Taj Mahal, Cyril Neville, Ivan Neville, Martin Scorsese, Quincy Jones, John Trudell, David Fricke (Rolling Stone Magazine), Steven Tyler, Taboo, Derek Trucks, Corey Harris, Guy Davis, Alvin Youngblood Hart, Monk Boudreaux, George Clinton, Jackson Browne, Joy Harjo, Iggy Pop, Wayne Kramer (MC5), Marky Ramone (The Ramones), Taylor Hawkins (Foo Fighters), Pura Fé (Ulali), Dan Auerbach (The Black Keys), Phil Soussan (Ozzy Osbourne), Matt Sorum (Guns 'N' Roses), Mike Inez (Alice in Chains), Robert Trujillo (Metallica), Taboo (Black Eyed Peas), Slash (Guns 'N' Roses), Charlie Sexton (Bob Dylan), Rhiannon Giddens (Carolina Chocolate Drops), Pat Vegas (Redbone), Robbie Robertson, Buffy Sainte-Marie, and many others.
The Sundance, Hot Docs, and Canadian Screen award-winning feature documentary film about a missing part of popular music history: the Indigenous influence.
Produced by REZOLUTION PICTURES | Directed by Catherine Bainbridge (Reel Injun), Co-director Alfonso Maiorana Executive produced / produced by Stevie Salas, Tim Johnson, Catherine Bainbridge, Christina Fon, Linda Ludwick, Ernest Webb, Lisa M. Roth, Jan Rofekamp, Diana Holtzberg, Ray Halbritter
Directed by Catherine Bainbridge (Reel Injun) | Canada | 2017 | 102 Minutes
Reserve Here
Related Events