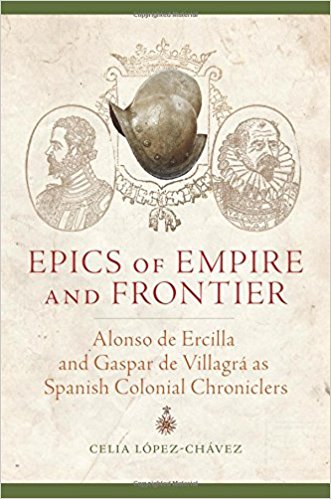 Reading & Booksigning: Celia López-Chávez, Epics of Empire and Frontier
April 1, 2017
2 pm to 4 pm
Join author Celia López-Chávez for a reading from her new book Epics of Empire and Frontier: Alonso de Ercilla and Gaspar de Villagrá as Spanish Colonial Chroniclers.
Epics of Empire and Frontier reveals new ways of thinking about the themes of empire and frontier from the muse of the epic poems La Araucana by the Spanish nobleman Alonso de Ercilla and Historia de la Nueva México by Gaspar de Villagrá, Mexican-born captain under Juan de Oñate in New Mexico, both of which valorize the Spanish conquest of native peoples. Employing historical and literary analysis that goes from the global to the regional, and from the sixteenth to the twenty-first centuries, López-Chávez considers Ercilla and Villagrá not only as writers but as citizens and subjects of the powerful Spanish empire.
This is a free public event
Although frontiers of conquest have always been central to the regional histories of the Americas, this is the first work to approach the subject through epic poetry and the main events in the poets' lives. López-Chávez also investigates the geographical spaces and landmarks where the conquests of Chile and New Mexico took place, the natural landscape of each area as both the Spanish and the natives saw it, and the characteristics of the expeditions in both regions, with special attention to the violence of the invasions. In her discussion of law, geography, and frontier, López-Chávez carries the poems' firsthand testimony on the political, cultural, and social resistance of indigenous people into present-day debates about regional and national identity.
Celia López-Chávez is a retired Associate Professor for the Honors College at the University of New Mexico and author of Con la cruz y con el dinero: Los Jesuitas del San Juan Colonial (With the Cross and with Money: Jesuits in Colonial San Juan).
Related Events