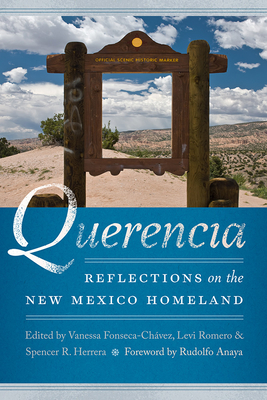 Querencia Writing Workshop
January 21, 2021
6 pm (MTS)
Live via Zoom
10 registered writers reading from our Querenica Writing Workshop will be working through out January 2020 creating poetry, fiction and nonfiction inspired by the theme of "querencia" and the anthology, Querencia: Reflections on the New Mexico Homeland, edited by Levi Romero, Vanessa Fonseca-Chavez and Spencer Herrera (UNM Press 2020). The workshop will culminate in a public reading on February 20, 2021.
Free event with registration
New Mexico cultural envoy Juan Estevan Arellano, to whom this work is dedicated, writes that querencia "is that which gives us a sense of place, that which anchors us to the land, that which makes us a unique people, for it implies a deeply rooted knowledge of place, and for that reason we respect it as our home."
This sentiment is echoed in the foreword by Rudolfo Anaya, in which he writes that "querencia is love of home, love of place." This collection of both deeply personal reflections and carefully researched studies explores the New Mexico homeland through the experiences and perspectives of Chicanx and indigenous/Genízaro writers and scholars from across the state. The importance of querencia for each contributor is apparent in their work and their ongoing studies, which have roots in the culture, history, literature, and popular media of New Mexico. Be inspired and enlightened by these essays and discover the history and belonging that is querencia.
Related Events