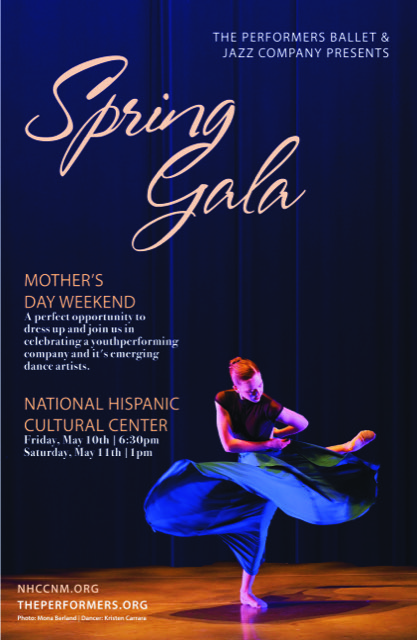 Performers Ballet & Jazz Company: Spring Gala (Rental)
May 10, 2019 - May 11, 2019
Friday—6:30 pm
Saturday—1 pm
Performers pre-sales March 9th-15th. Public Sales begin March 16th
Award-winning dance company marks world-class premiere! The Performers Ballet & Jazz Company, an Albuquerque-based dance company operating since 1981, announces its premiere Spring Gala, running for one weekend only at the National Hispanic Cultural Center.
Featuring 65 classically trained dancers in new and re-staged classical and contemporary works, this avant-garde production by the highly acclaimed company will redefine concert dance in our city. The performance will also showcase a renowned collection of classical ballet repertoire. Choreographers include Alex Ketley, Artistic Director of The Foundry, San Francisco, CA, as well as local artists Karen Alwin, Andrea Basile, Wendy Miner, and Kelsey Paschich.
$25, $33 w/ $2 discount for students/seniors/NHCC members/groups of 10+
The title, content, photos/images and description for this event were provided to the NHCC by the organization renting the NHCC venue for the event. By serving as a venue and posting the event on its website, the NHCC is not endorsing any views expressed in the title or description of the event, nor is it endorsing the content of the event.
Event Navigation
Related Events