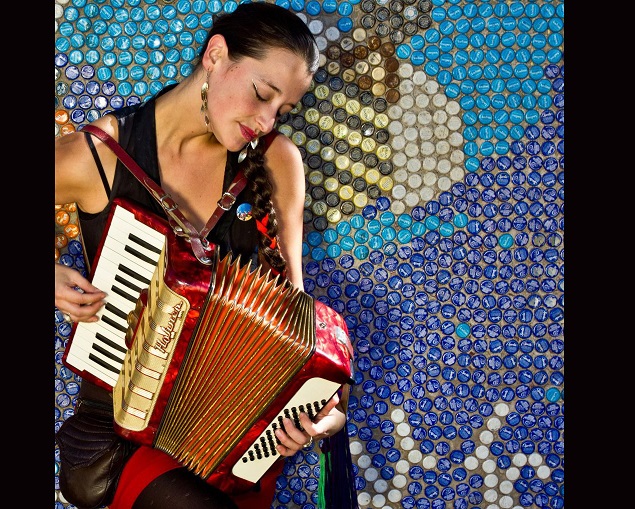 Domingos en Arte: Pascuala Ilabaca y Fauna
July 15, 2018
7:30 pm
A rising star among young Chilean singer-songwriters, Pascuala Ilabaca creates music that is rooted in Chilean folk traditions and informed by a childhood moving from Barcelona to Chile, Mexico to India, and back again, while incorporating strands of jazz, pop, rock, and other influences into the mix. Her voice is as vibrant as the brilliant red accordion she plays, and her song lyrics focus on positive messages of feminism, anti-violence, and cultural heritage. Ilabaca's first album, Pascuala canta a Violeta, is an homage to Chilean composer, songwriter, and folklorist Violeta Parra. Her formidable band, Fauna, is made up of accordion, keyboard, saxophone, clarinet, percussion, bass, and guitar.
Domingos en Arte, a summer music and dance series presented by Melaza Music, AMP Concerts, and the National Hispanic Cultural Center is a family-friendly summer event on Sundays in NHCC's charming Fountain Courtyard that features live music, drinks, and delicious Latin cuisine.
Advance $13, Day of Show $18
    Thank you to our Domingos en Arte media sponsor Telemundo 2 Kasa!
Domingos en Arte is part of New Mexico Culture Squared (NMC2), a NM Department of Cultural Affairs (DCA) project to build and manage partnerships between DCA institutions and cultural organizations that will enhance the impact, effectiveness, attendance, and visitor experience of exhibits and programs of DCA entities. Under the management of AMP Concerts, NMC2 will create programs in collaboration with State Historic Sites, DCA Museums and various cultural organizations with the goal of increasing public programs statewide and promoting New Mexico as a destination for arts and culture.
This is a rain or shine event.
Related Events