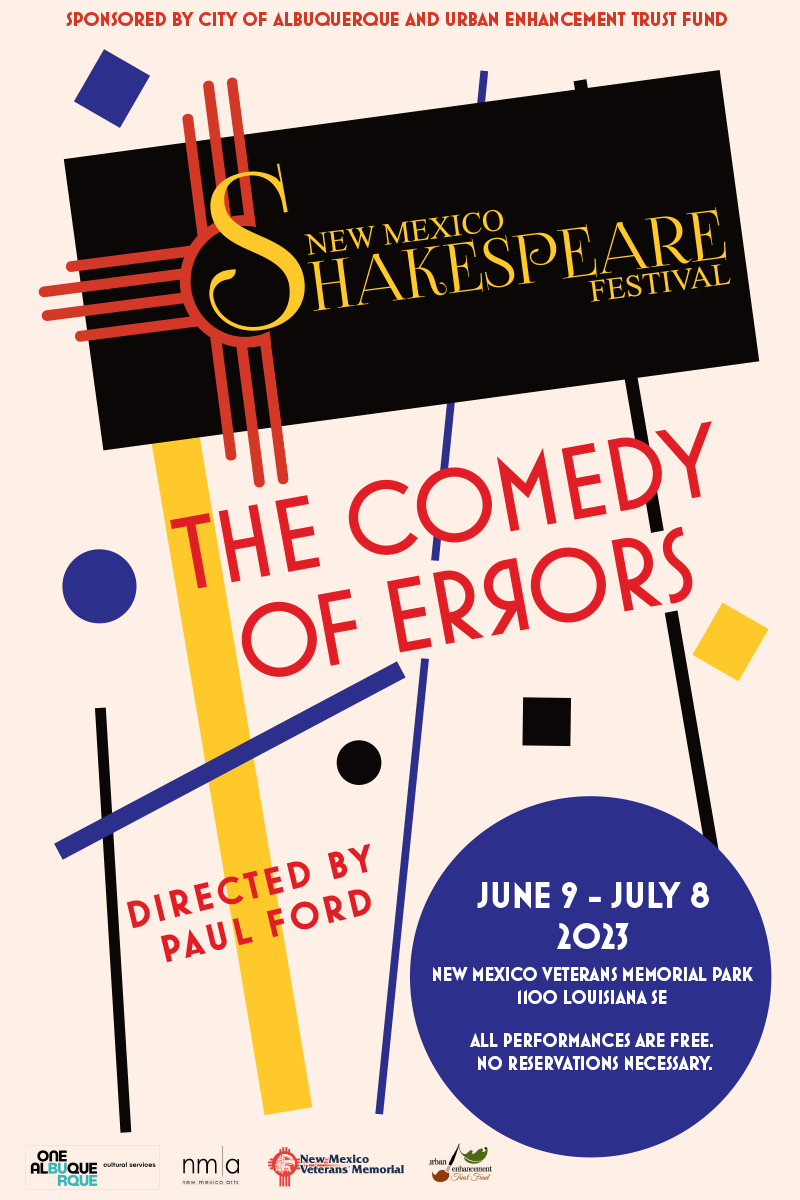 New Mexico Shakespeare Festival: Comedy of Errors
June 29
7:30 pm
Bringing Shakespeare to Life in New Mexico! The New Mexico Shakespeare Festival believes that Shakespeare is for everyone – whether you've seen dozens of plays or none at all. You are invited to join them on the National Hispanic Cultural Center Plaza Mayor to enjoy a wonderful performance!
Comedy of Errors  |  Directed by Paul Ford
Free community event. Tickets will be available at the event one hour prior to the performance.
Director's Note: It could be argued that Shakespeare's Comedy of Errors has no socially redeeming value.  A very young William Shakespeare cobbled together his own take on several ancient Roman comedies – zapped it with a modern sensibility – wrote in better jokes – added more plot twists – and included a dash of his growing romantic brilliance – and voilà.  It's all that and it is more. It is filled with mad-dash playful action interrupted by stand-up routines – mistaken identities and their hilarious consequences – melodramatic longing and joyous reunions.
At its heart, is a play about the exuberance of youth. The Comedy of Errors does not shed new light on the human condition or plumb the depths of the human psyche. It throws a brilliant and playful spotlight on the simple follies of humble humans. It is a play about us.  How nice of Shakespeare to send us this giggling love letter 400 years ago. He knew we would open it with glee.
The event is a rental event not an NHCC production. The title, content, photos/images and description for this event were provided to the NHCC by the organization renting the NHCC venue for the event. By serving as a venue and posting the event on its website, the NHCC is not endorsing any views expressed in the title or description of the event, nor is it endorsing the content of the event.
Event Navigation
Related Events