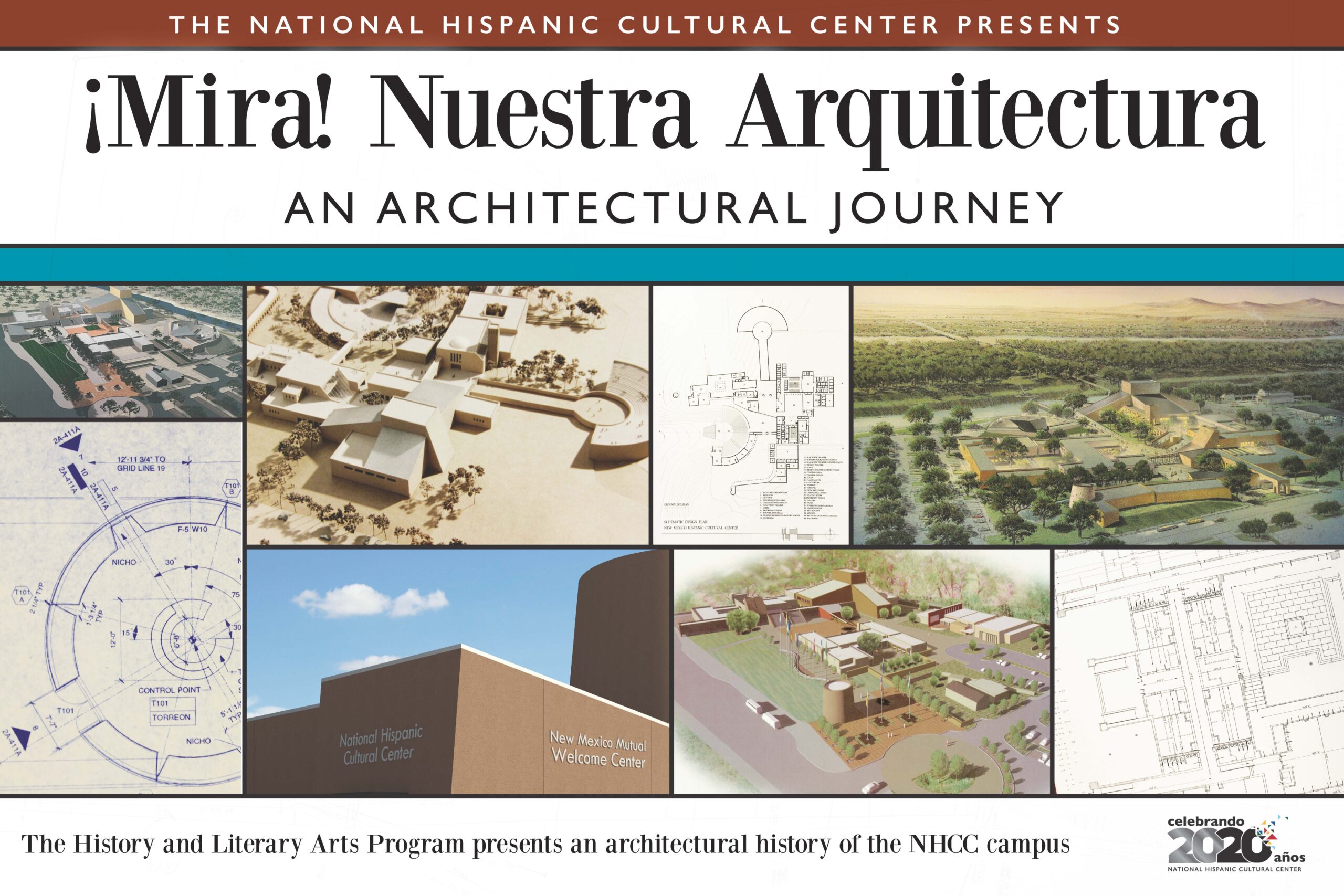 ¡Mira! Nuestra Arquitectura: An Architectural Journey
August 17, 2021 - December 31, 2021
"¡Mira! Nuestra Arquitectura: An Architectural Journey"
An architectural history of the NHCC, in celebration of our 20th anniversary.
To commemorate the 20th anniversary of the National Hispanic Cultural Center, the History and Literary Arts program presents "¡Mira! Nuestra Arquitectura: An Architectural Journey," an architectural history of the Center's past, present and future. This exhibit consists of text, sketch drawings, blueprints, maps, and photographs exploring Hispanic/Latinx culture and heritage as expressed through the buildings and landscape of the Center. The exhibit shows the original design concept for the Center's campus, the subsequent redesign, as well as the challenges and triumphs in building this prominent institution whose doors opened in 2000.
DID YOU KNOW…
…the original design for the Center included an amphitheater?
…each program has a uniquely designed building?
…the El Gran Torreón contains a 4,000 square foot fresco, "Mundos de Mestizaje," depicting thousands of years of Hispanic history?
…the original design had the public parking lot situated on the south side of campus?
…the Rio Grande served as an important influence on the original design of the campus?
…the Center's campus will soon have a Visitor's Center?
***
Para conmemorar el vigésimo aniversario del Centro Nacional de Cultura Hispana, el programa de historia y artes literarias presenta "¡Mira! Nuestra arquitectura: Un viaje arquitectónico," una historia arquitectónica del pasado, del presente y del futuro del Centro. La exhibición consiste en texto, bosquejos, planos, mapas, y fotografías que exploran la cultura y la herencia hispanas/latinas expresadas en los edificios y los paisajes del Centro. La exhibición muestra el diseño conceptual original para el campus del Centro, y el cambio de diseño subsiguiente, además de los desafíos y los triunfos al construir esta institución prominente cuyas puertas abrieron en 2000.
¿SABÍA UD. QUE . . .
…el diseño original del Centro incluía un anfiteatro?
…cada programa tiene un edificio de diseño único?
…el gran torreón del Centro contiene un fresco de 4.000 pies cuadrados, "Mundos de Mestizaje," que representa miles de años de historia hispana?
…en el diseño original el estacionamiento se ubicaba en el lado sur del campus?
…el Río Grande servía como una influencia importante en el diseño original del campus?
…el campus del Centro pronto tendrá un centro para visitantes?
Related Events