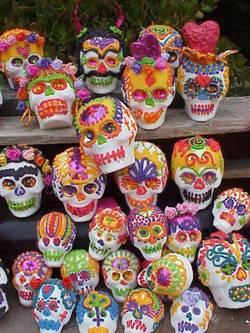 K-12 Educator's Workshop: Día de los Muertos: Papel Picado, Shrines, and Sugar Skulls
October 13, 2016
5 pm to 8 pm
Join the UNM Latin American & Iberian Institute and the National Hispanic Cultural Center for a free professional development workshop for K-12 educators focused on Día de los Muertos.  Led by artist and educator Arturo Olivas, participants will learn the history behind papel picado, shrines, and sugar skulls, before delving into hands-on instruction in all three elements. Certificates of professional development, refreshments, and supplies will be provided to participants. Registration is required for this free event.
This is a free event with registration. Limited availability.
For a PDF with all of the education opportunities please click HERE.
If you would like to register please click HERE.
For more information please contact Elena Baca at ElenaD.Baca@state.nm.us or call her direct line at 505-383-4734.
This and all other Dia de los Muertos events at the NHCC are generously sponsored by Holman's USA.
Related Events