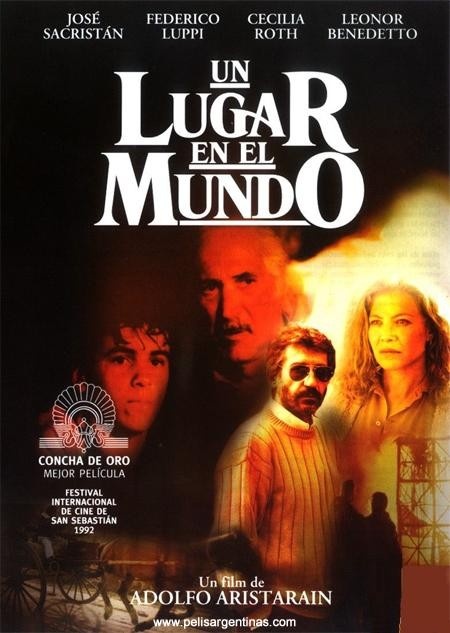 Film: Un lugar en el mundo
February 25, 2022
12 pm (available for 48 hours(
Instituto Cervantes Vimeo Channel Here
Adolfo Aristarain's Un lugar en el mundo follows the experiences of adolescent Ernesto and his parents, who, after years of exile during Argentina's "Dirty War," have moved to a small village in a remote valley to put their ideals into practice running a school, wool cooperative, and clinic. When a Spanish geologist arrives to survey the land for the local patrón and see if it can be dammed for hydroelectric power—a threat to the locals' way of life—his cynicism thaws as he comes to understand the ethics of his new neighbors.
1992; Spanish with English subtitles; 127 minutes; rated PG.
Free community event
The Spanish Academy of Motion Picture Arts and Sciences annually awards a special prize, the Honorary Goya, to artists whose body of work is of the highest value and relevance. In 1922, this "Goya de Honor" goes to José Sacristán, one of the most renowned and beloved actors in Spanish cinema.
In February, Instituto Cervantes joins in the tribute to this multifaceted performer, whose career encompasses over one hundred films, in addition to stage and television performances, and who has also directed three feature films and several plays. The four films presented in this month's cycle were selected by Sacristán himself, reflecting his use of cinema as a tool for social dialogue and his work with succeeding generations of filmmakers.
Goya de Honor, José Sacristán: Film Schedule
* February 4: Asignatura pendiente (José Luis Garci, 1977)
* February 11: Un hombre llamado Flor de Otoño (Pedro Olea, 1978)
* February 18: El muerto y ser feliz (Javier Rebollo, 2012)
* February 25: Un lugar en el mundo (Adolfo Aristarain, 1992)
All titles will be available on the Instituto Cervantes Vimeo channel for 48 hours, starting at 12 pm on the day on which they are scheduled for viewing.
Event Navigation
Related Events