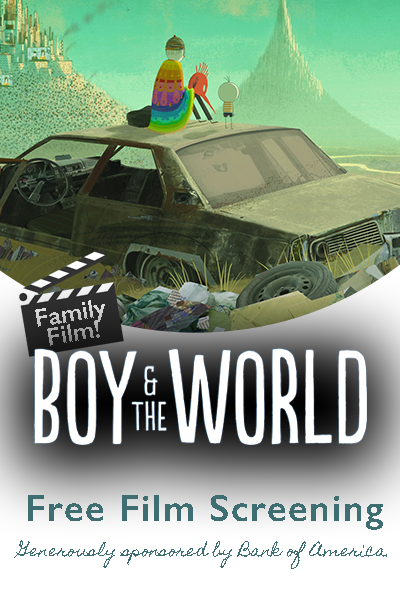 Film Screening: Boy and the World
May 27
3:00 pm
Brazilian artist Alê Abreu's Academy Award-nominated masterpiece is a riotous explosion of music and color, a breathtakingly original and vibrant cinematic experience that depicts the wonders and struggles of the modern world as seen through the eyes of a young boy.
Cuca's cozy rural life is shattered when his father leaves for the city, prompting him to embark on a quest to reunite his family. The young boy's journey unfolds like a tapestry, the animation taking on greater complexity as his small world expands. Entering civilization, industrial landscapes are inhabited by animal-machines, with barrios of decoupage streets and shop windows and flashing neon advertisements that illuminate the night. The story depicts a clash between village and city, hand crafted and mechanized, rich and poor – and throughout the tumult, the heart and soul of the people beats on as a song.
2013 | Animated Feature | Portuguese (spoken backwards) | 80 minutes | not rated | Directed by Alê Abreu
Generously supported by Bank of America.
Reserve Here
Event Navigation
Related Events