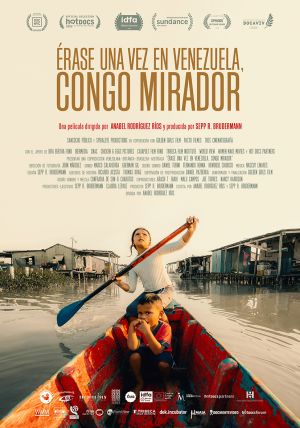 Film: Érase una vez en Venezuela, Congo Mirador
April 29, 2022
12:00 pm (available for 48 hours)
Instituto Cervantes Vimeo Channel Here
In Anabel Rodríguez Ríos' "reflection of a divided country," the floating village of Congo Mirador, a short distance from Venezuela's Lake Maracaibo, is seen through the eyes of two women, espousing opposing ideologies, who are still trying to sustain life in a town that is dying from drought, pollution, corruption, and neglect.
2020; Spanish with English subtitles; 99 minutes; rated PG-13.
Free community event
In April, Instituto Cervantes continues its annual collaboration with the Malaga Festival, Cinema in Spanish, screening four contemporary documentaries by Spanish and Latin American filmmakers from the festival's "Zonazine documental" category. This year, the films shown, all directed by women, explore a variety of social and political concerns, with the idea of migration and movement running through them as a constant theme in today's world.
Zonazine documental, en femenino: Film Schedule
* April 8: Cartas mojadas (Paula Palacios, 2020)
* April 15: A media voz (Patricia Pérez & Heidi Hassan, 2019)
* April 22: Sanmao, la novia del desierto (Marta Arribas & Ana Pérez, 2020)
* April 29: Érase una vez en Venezuela, Congo Mirador (Anabel Rodriguez Rios, 2020)All titles will be available on the Instituto Cervantes Vimeo channel for 48 hours, starting at 12 pm on the day on which they are scheduled for viewing.
Event Navigation
Related Events