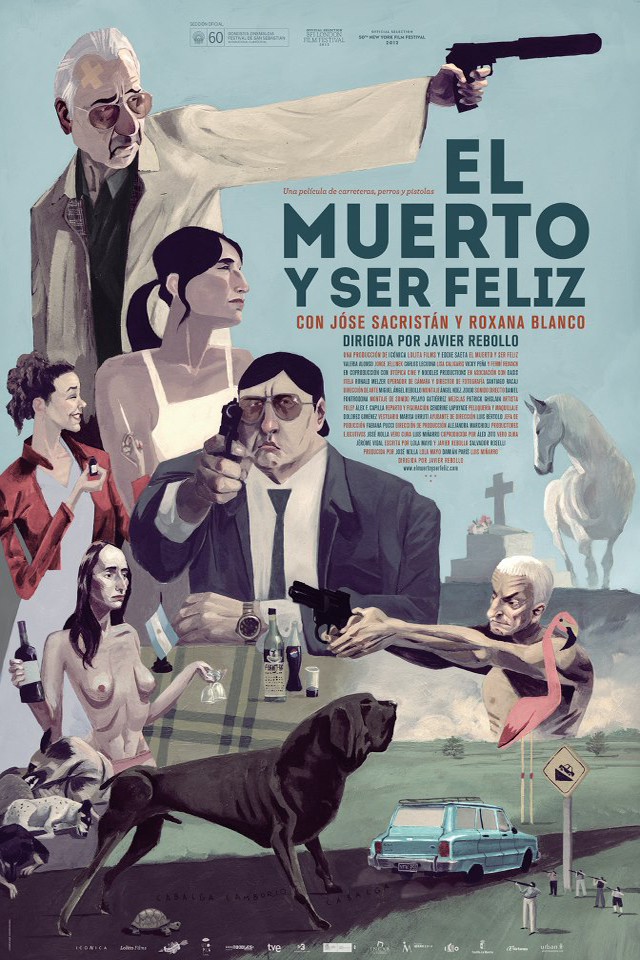 Film: El muerto y ser feliz
February 18, 2022
12 pm (available for 48 hours
Instituto Cervantes Vimeo Channel Here
On the top floor of a Buenos Aires hospital, an aging Spanish hitman who has spent half his life in Argentina realizes that he is dying. Escaping with a supply of morphine, he sets out on a journey north to nowhere, accompanied by a girl whom he meets on the road. Javier Rebollo's dark comedy El muerto y ser feliz is the vehicle for one of José Sacristán's most riveting performances.
2012; Spanish with English subtitles; 93 minutes; rated PG-13.
Free community event
The Spanish Academy of Motion Picture Arts and Sciences annually awards a special prize, the Honorary Goya, to artists whose body of work is of the highest value and relevance. In 1922, this "Goya de Honor" goes to José Sacristán, one of the most renowned and beloved actors in Spanish cinema.
In February, Instituto Cervantes joins in the tribute to this multifaceted performer, whose career encompasses over one hundred films, in addition to stage and television performances, and who has also directed three feature films and several plays. The four films presented in this month's cycle were selected by Sacristán himself, reflecting his use of cinema as a tool for social dialogue and his work with succeeding generations of filmmakers.
Goya de Honor, José Sacristán: Film Schedule
* February 4: Asignatura pendiente (José Luis Garci, 1977)
* February 11: Un hombre llamado Flor de Otoño (Pedro Olea, 1978)
* February 18: El muerto y ser feliz (Javier Rebollo, 2012)
* February 25: Un lugar en el mundo (Adolfo Aristarain, 1992)
All titles will be available on the Instituto Cervantes Vimeo channel for 48 hours, starting at 12 pm on the day on which they are scheduled for viewing.
Event Navigation
Related Events