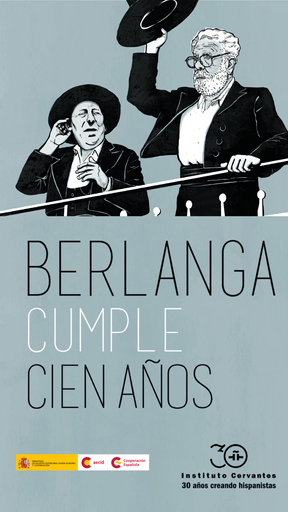 Film: Berlanga cumple cien años, Patrimonio nacional
June 25, 2021
12 pm (MST)
Available for 48 hours
Instituto Cervantes Vimeo Channel HERE
The 1981 film Patrimonio nacional is the second in Berlanga's "trilogía Nacional,"co-written late in his career with acclaimed screenwriter Rafael Azcona. It is preceded by La escopeta nacional and followed by Nacional III. After the death of Franco in 1975 and the restoration of the monarchy, the Marquis of Leguineche returns with his son to his palace in the heart of Madrid, intending to regain his position among the city's aristocracy, and gain access to the king's inner circle, following decades of voluntary exile. His estranged wife, however, has been ensconced in the palace for over 40 years, loathes both her husband and her son, and has no intention of leaving. When the Marquis plots to have her committed, a variety of eccentric characters pop in and out of the palace in this sardonic and surreal commentary on the opportunism and decadence of the Spanish upper classes post-Franco.
Spain; 1981; Spanish with English subtitles; 110 minutes; rated PG-13.
Free Community event
Luis García Berlanga is one of the most renowned directors in the history of Spanish cinema. His long and fruitful film career, his unmistakable creative hallmarks, his corrosive humor, and his work in directing some of the great classics of the 20th century all merit the tribute of this on-line film series, presented on the centenary of his birth. In June, Instituto Cervantes showcases four films that represent the trajectory of Berlanga's career and demonstrate his evolution as a filmmaker.
Berlanga cumple cien años: Film Schedule
June 4: Esa pareja feliz (Luis García Berlanga & Juan Antonio Bardem, 1951)
June 11: Calabuch (Luis García Berlanga, 1956)
June 18: Plácido (Luis García Berlanga, 1961)
June 25: Patrimonio nacional (Luis García Berlanga, 1981)
Event Navigation
Related Events