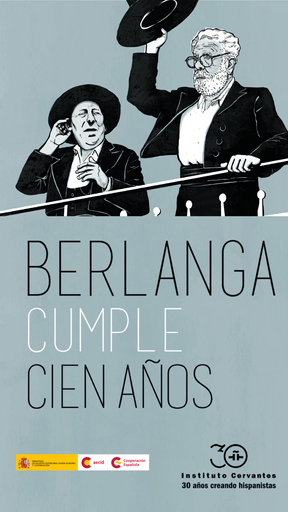 Film: Berlanga cumple cien años, Esa pareja feliz
June 4, 2021
12 pm (MST)
Available for 48 hours
Instituto Cervantes Vimeo Channel HERE
Set in Madrid in the 1950s, Esa pareja feliz is the feature film debut by Luis García Berlanga and Juan Antonio Bardem. Underlying the 1951 comedy, heavily influenced by Italian neorealism, is a critical look at the incipient consumerism that was beginning to infiltrate the society of the day. A young couple, searching for ways to improve their lot in life, win a contest sponsored by the Florit soap company and receive the gifts and invitations awarded to the "happy couple" for 24 hours, before they must return to their everyday reality.
Spain; 1951; Spanish with English subtitles; 102 minutes; rated PG.
Free community event
Luis García Berlanga is one of the most renowned directors in the history of Spanish cinema. His long and fruitful film career, his unmistakable creative hallmarks, his corrosive humor, and his work in directing some of the great classics of the 20th century all merit the tribute of this on-line film series, presented on the centenary of his birth. In June, Instituto Cervantes showcases four films that represent the trajectory of Berlanga's career and demonstrate his evolution as a filmmaker.
Berlanga cumple cien años: Film Schedule
June 4: Esa pareja feliz (Luis García Berlanga & Juan Antonio Bardem, 1951)
June 11: Calabuch (Luis García Berlanga, 1956)
June 18: Plácido (Luis García Berlanga, 1961)
June 25: Patrimonio nacional (Luis García Berlanga, 1981)
Event Navigation
Related Events