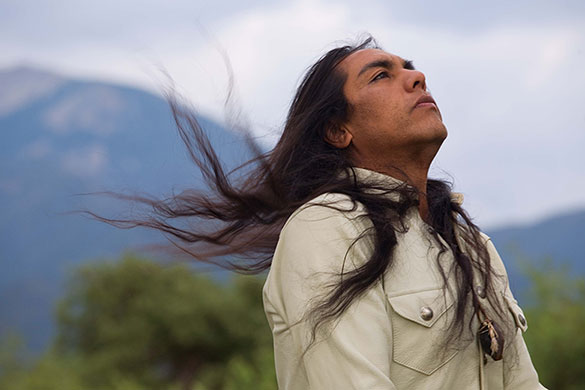 Festival Ballet Albuquerque: Sacred Journeys with Robert Mirabal
March 10, 2018 - March 11, 2018
Saturday at 7 pm and Sunday at 2 pm
Sacred Journeys, presented by Festival Ballet Albuquerque in partnership with the NHCC, is a reflection of our New Mexican cultures and storytelling through dance, music, and spoken word. Our Hispanic culture is prominent in the story "Las Soldaderas," choreographed by Dominic Guerra and depicting the story of the young lovers and the many brave women who fought in the Mexican Revolution. Two-time Grammy award-winning Taos Pueblo musician Robert Mirabal joins FBA onstage, integrating Native American Pueblo culture of northern New Mexico with the Hispanic culture of the region. Choreographers for the project include featured choreographer Jock Soto, Patricia Dickinson Wells, Trey Pickett, and Natalee Maxwell, presenting Robert Mirabal favorites from the albums Songs from the Painted Cave, The River, and others. Mirabal, a world-renowned musician, composer, poet, actor, and screenwriter, is dedicated to keeping alive the centuries-old customs of Taos Pueblo, as well as merging his Indigenous American sound with the music of Africa, Asia, and the Caribbean in a world music style that defies categorization.
Jock Soto was born on the Navajo reservation in Gallup, NM to a Navajo Mother and a Puerto Rican father.  Following in the footsteps of his mother, he first learned to hoop dance — an early foundation for what became one of the most celebrated careers at the New York City Ballet.  On the eve of his retirement from stage 2005, The New York Times wrote "Ballet is a man called Jock."
Of Jock Soto's memoir "Every Step You Take,"ten-time Tony Award winner and recipient of the National Medal of Arts, Tommy Tune said "Airborne in spirit, earthbound in truth, the words are moving and masterful.  Like the dancer himself."
$14, $20, $29, $38, $47 w/ $2 off for seniors, children 10 and younger and NHCC members.
Group rates available.
Event Navigation
Related Events