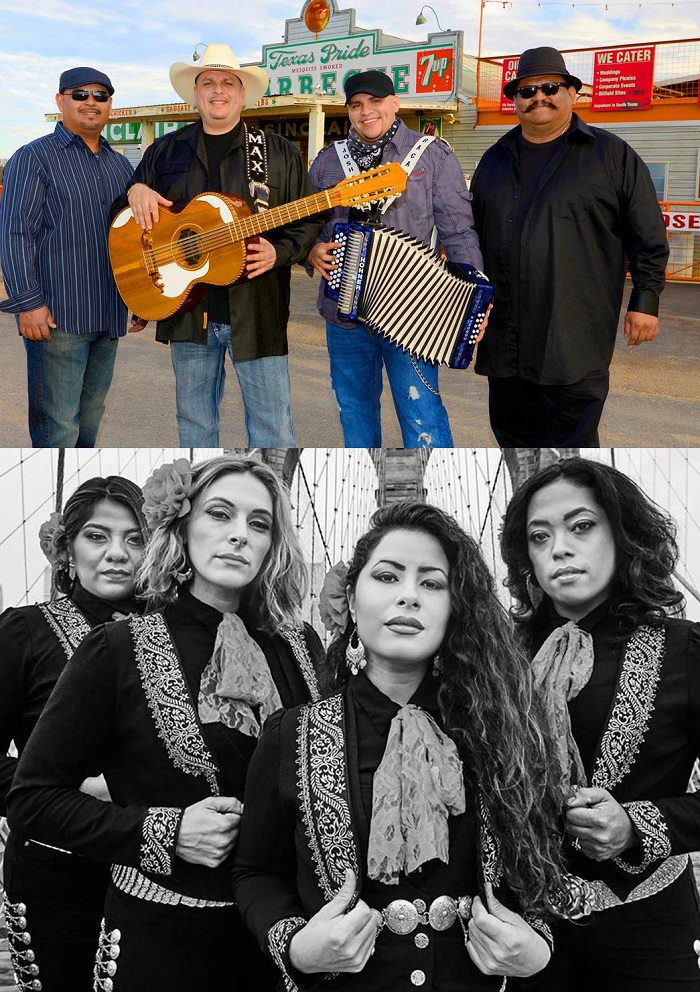 Domingos en Arte: Los Texmaniacs & Mariachi Flor de Toloache
July 2, 2017
7 pm (doors open at 6:30 pm)
Grammy-winning Los TexManiacs, a conjunto band created by Albuquerque's Max Baca in 1997, is joined by Grammy-nominated Mariachi Flor de Toloache, from New York. Los TexManiacs incorporates elements from genres including rock & roll and jazz, while still honoring the roots of Tejano conjunto; their album Borders y Bailes won the 2010 Grammy Award for Tejano Album of the Year. Founded in 2008, with members from a wide variety of national and cultural backgrounds, Mariachi Flor de Toloache is New York City's first and only all-women mariachi group, offering an edgy, fresh take on traditional Mexican music.
Domingos en Arte, a summer music and dance series presented by Melaza Music, AMP Concerts, and the National Hispanic Cultural Center in the NHCC's Fountain Courtyard, enters its second season beginning in June. We have invited some of our musician friends, from the local community and outside, for lively community get-togethers right next to the beautiful Rio Grande Bosque. Spend Sunday evenings from 7 pm to 10 pm enjoying live music, drinks, and delicious Latin cuisine with family and friends in this enchanting courtyard setting, with one or all of the groups who will be performing this season.
$17; free for 12 and younger
Remaining Domingos en Arte Full Schedule:
Boleros al Atardecer (Nuevo Mexico)
Sunday, July 9, 2017 at 7:30 pm
Boleros al Atardecer is an evening dedicated to romantic Latin music, from boleros (Latin ballads) to Peruvian Creole songs, cha cha cha, son, and bossa nova. A versatile ensemble of talented Albuquerque musicians, including Jim Ahrend, Mathias Rodríguez, Jackie Zamora, Victor Rodríguez, Tony Quiñones, Janet Harman, and César Bauvallet, performs some of the most beautiful and nostalgic classics of Latin cultures.
$12; free for 12 and younger
TradiSón (Cuba)
Wednesday, July 19, 2017 at 7:30 pm
A special mid-week performance in the series features TradiSón, the house band at La Bodeguita del Medio restaurant in Havana, famous for a storied clientele including Ernest Hemingway and Pablo Neruda. The band, as its name suggests, specializes in the son, a musical form that combines Afro-Cuban rhythms and Spanish melody, while performing other lively Cuban musical genres such as guaracha, guajira, and bolero.
$17; free for 12 and younger
Los Hacheros (Brooklyn, NYC)
Sunday, July 23, 2017 at 7:30 pm
Brooklyn's Los Hacheros are modern-day torchbearers of the Golden Age of Latin music, reviving folkloric styles like son montuno, guaracha, and salsa, and often combining them with bomba, a fiery rhythm from the mountains of Puerto Rico. Their debut album Pilón was acclaimed for "…its solid arrangements and lively original songs [that] have impressed old-school salseros and young music fans alike." Their sophomore album, Bambulaye, was recorded live to vintage analog tape, giving it a raw, warm sound similar to that of the Latin legends who have inspired the group.
$17; free for 12 and younger
Domingos en Arte is part of New Mexico Culture Squared (NMC2), a NM Department of Cultural Affairs (DCA) project to build and manage partnerships between DCA institutions and cultural organizations that will enhance the impact, effectiveness, attendance, and visitor experience of exhibits and programs of DCA entities. Under the management of AMP Concerts, NMC2 will create programs in collaboration with State Historic Sites, DCA Museums and various cultural organizations with the goal of increasing public programs statewide and promoting New Mexico as a destination for arts and culture.
Related Events