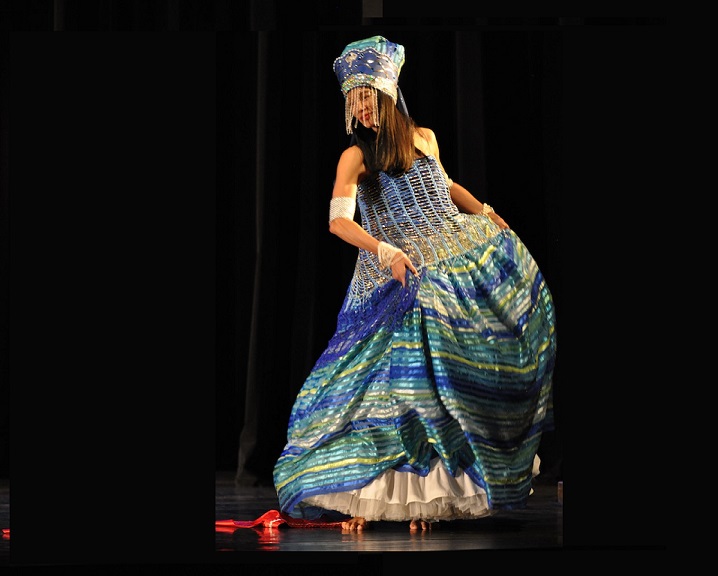 Domingos en Arte: Maferefun Orisha, A Salute to the Saints
July 22, 2018
7:30 pm
Maferefun Orisha introduces the public to the pantheon of Afro-Cuban gods and goddesses. These saints—or Orisha—represent different aspects of nature and humanity. The first set of this performance showcases the Orishas through story, song, and dance. The Bataleros de Querque will sing traditional songs in Yoruban while playing the sacred batá drums, while the Odara Dance Ensemble will portray the different gods and goddesses through dance and costume. Hear and see Chango, the god of thunder and lightning; Ochun, the river goddess of love; Oya, the goddess of the wind; and more.
During the second set, the Odara Dance Ensemble and the Bataleros de Querque will perform and teach a set of Afro-Cuban folkloric dances, including the rumba, macuta, and son. Odara will ask for audience participation, so this will be your chance to learn these dances.
Domingos en Arte, a summer music and dance series presented by Melaza Music, AMP Concerts, and the National Hispanic Cultural Center, is a family-friendly summer event on Sundays in NHCC's charming Patio Courtyard that features live music by a wide range of Latino artists, drinks, and delicious Latin cuisine.
$11 in advance, $14 day of show
    Thank you to our Domingos en Arte media sponsor Telemundo 2 Kasa!
Domingos en Arte is part of New Mexico Culture Squared (NMC2), a NM Department of Cultural Affairs (DCA) project to build and manage partnerships between DCA institutions and cultural organizations that will enhance the impact, effectiveness, attendance, and visitor experience of exhibits and programs of DCA entities. Under the management of AMP Concerts, NMC2 will create programs in collaboration with State Historic Sites, DCA Museums and various cultural organizations with the goal of increasing public programs statewide and promoting New Mexico as a destination for arts and culture.
This is a rain or shine event.
Related Events