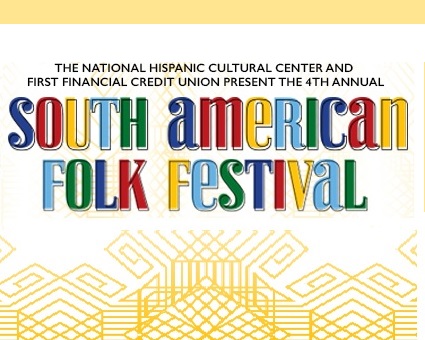 4th Annual South American Folk Festival
May 20, 2018
2 pm
The 4th Annual South American Folk Festival seeks to unite Albuquerque's South American community in a day of cultural experience and connection through music, dance, and food. In addition to food vendors from participating countries, the festival will feature traditional dancers from Colombia, Peru, Venezuela, Chile, Brazil, Argentina, and Ecuador.
Highlights of the event include local band Baracutanga performing a traditional batucada and performances by Argentine Tango instructors Eva Garlez and Pablo Rodriguez, Peruvian dance/choreographers Fiorella Vera Adrianzen and Yessenia Lentz, and the Odara Dance Ensemble. The featured band will be Houston-based Bamuayā, led by Venezuelan percussionist Reinaldo Araujo. A Latin fusion group with musicians from all over Latin America as well as the United States, Bamuayā will be releasing their latest CD in Albuquerque.
And, proudly representing the Colombian culture, this event will again welcome Raices Colombianas who, for the past four years have delighted us with their traditional dances, folkloric costumes, and energetic choreographies. They will be presenting two songs, both of which have folkloric rhythms with roots in the African cultures that integrated with the native Colombian culture.  These dances reflect the themes of courtship and slavery, but, at the same time, tell the stories of ordinary activities like fishing and agriculture. The costumes have a Spanish influence.  Men's costumes in general are white and in light materials with hats and scarves. The women use wide skirts called polleras.  In addition, women wear big floral arrangements in their hair to complete the costume.  Instruments commonly heard in this music include drums, flutes, marimbas, and maracas.
$14 in advance, $16 day of show w/ $2 discount for NHCC members; free for children age 12 and younger
Related Events