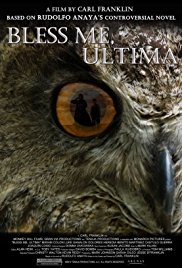 Film: Bless Me, Ultima
7:00 pm
Rudolfo Anaya's beloved and iconic Bless Me, Ultima returns to the NHCC with Carl Franklin's screen adaptation in partnership with the English department of the University of New Mexico. Bless Me, Ultima is set in the 1940s in rural New Mexico, and tells the story of a young boy and the mysterious healer who opens his eyes to the wonders of the spiritual realm. As the entire world is plunged into war and Antonio Marez grapples with the harsh realities all around him, his life is forever changed by the sudden arrival of Ultima, a curandera who inspires him to see the world from a new perspective.
2011; Carl Franklin; English; 102 minutes; rated PG-13.
Reception at 6:00 pm & Pre-film Talk by Dr. Gabriel Meléndez at 6:30 pm.
Free ticketed event. Please make a reservation here, or call the NHCC Welcome Center at 505-724-4771 for assistance.
The Bank of America provides generous support for this film series.
Event Navigation
Related Events