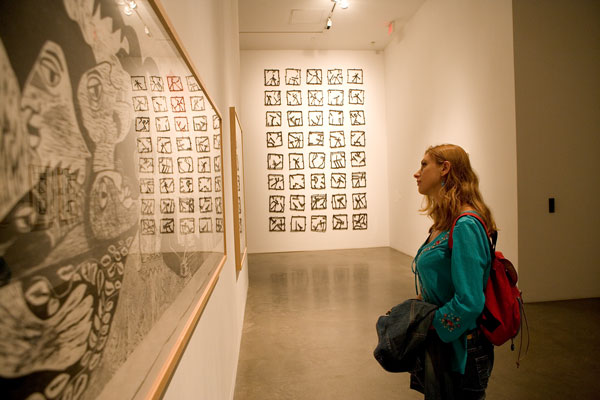 Visual Arts Museum: First Sunday Free Admission
August 1, 2021
10 am to 4 pm
The first Sunday of every month the Visual Arts Museum is free to all New Mexico residents. During this time, visitors are encouraged to explore the NHCC's Visual Arts Museum art exhibitions such as "Because It's Time: Unraveling Race and Place in NM" and "Mira, Mira on the Wall: Reflecting on 20 Years of NHCC Exhibitions."
The number of visitors allowed into the building will be limited in accordance with the most current New Mexico Public Health Order. Reduced occupancy might result in a wait to gain entry. Reserve tickets for the free first Sunday of the month early by clicking on the link below.
All visitors and employees will be required to wear masks or cloth face coverings at all times.
There will be 6-foot social distancing markers and one-way directional flow in high traffic areas within the museum in order to promote a physically distanced and safe environment.
Learn more about how the Natinoal Hispanic Culture Center and the Department of Cultural Affairs are keeping you safe!
Related Events