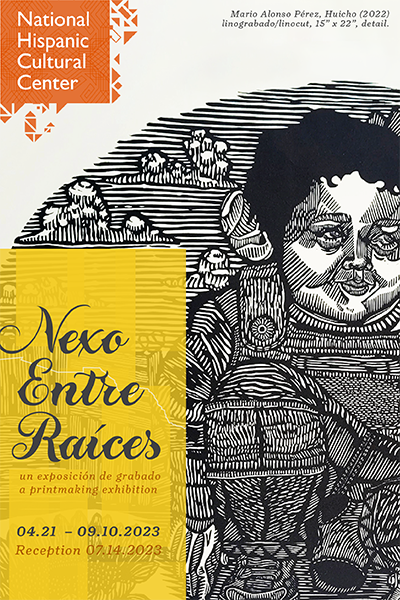 Opening Reception: Nexo Entre Raíces / Nexus Between Roots
July 14
4:00 pm to 7:00 pm
NHCC Art Museum
Evento Comunitario Gratuito / Free Community Event!
4-7pm – Exhibition on view
4-5:30pm – Art Activities
6pm – Artist Panel Discussion
Nexo Entre Raíces / Nexus Between Roots is an exhibition of prints by artists living and working in both Mexico and the United States. Their work traverses themes of culture, tradition, identity, and place, connecting those with Mexican roots across borders. Organized by artist Marco Sánchez and multidisciplinary scholar Claudia Ley in collaboration with the NHCC Art Museum, the exhibition features 32 artworks exchanged for a print portfolio between the participating artists as well as additional pieces contextualizing the artists' work.
Nexo Entre Raíces es una exposición de grabados de artistas viviendo y trabajando en ambos lugares de México y Estados Unidos. Sus obras atraviesan temas de cultura, tradición, identidad y lugar, que se conectan con sus raíces transfronterizas. Organizado por artista Marco Sánchez y erudita multidisciplinaria Claudia Ley en colaboración con el Museo de Arte del Centro Nacional de Cultura Hispana, la exposición muestra 32 obras de arte intercambiadas entre los artistas que resulta en una carpeta de grabados de los artistas participantes tanto como obras adicionales que contextualizan las obras de los artistas.
Generously sponsored by the Andrew W. Mellon Foundation.
Reserve Here
Event Navigation
Related Events