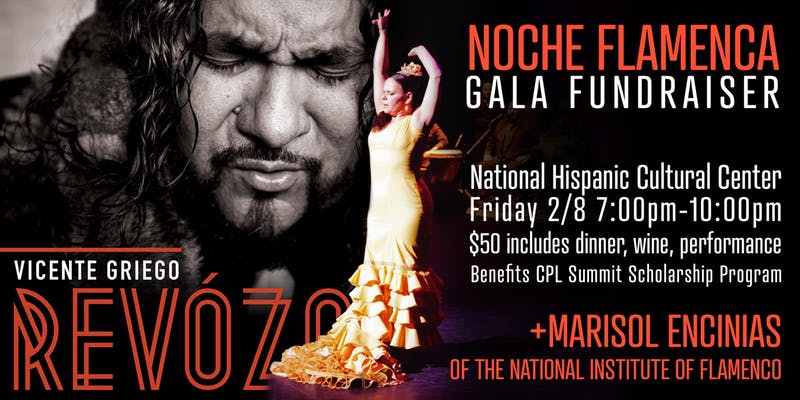 Noche Flamenca Gala Fundraiser
February 8, 2019
7 pm
Join Mayor Keller of Albuquerque, NCCP, and ArtPlace America for this extraordinary event! Enjoy a tapas dinner from La Fonda del Bosque, paired with wine from the award-winning Casa Rondeńa Winery, in an intimate setting at the beautiful National Hispanic Cultural Center. Experience flamenco at its most passionate, as internationally-renown cantaor Vicente Griego and his group REVÓZO, with dancers featuring Marisol Encinias of the National Institute of Flamenco, as they reach for duende in a stripped-downtablao performance.
Special thanks to the City of Albuquerque, National Hispanic Cultural Center, Vicente Griego, Casa Rondeńa Winery, and Chuy Martinez for donating time and space to make this special event possible.
Proceeds for this event will go towards supporting CPL Summit Scholarships.
The Creative Placemaking Leadership Summits are important for the development of ideas, relationships, and projects in the field, and all around the country. They allow people from all disciplines and geographies to meet with peers, get ideas and make connections that will benefit the entire field for years to come. But we can't, in good conscience, invite only those who can afford it. We risk continuing the echo chambers we so often see in our news and social media. When creating a diverse and dynamic conversation around building communities through arts and cultural programming, it's critical to have better, and deliberate representation. People from rural areas, poor and working class people, LGBTQ folks and people of color are currently underrepresented at our summits and we want everyone's voice at the table. Help us get them there. Everyone needs more artists in their lives. They provide not only hands-on knowledge of tools and techniques, but a creative outlook on processes and collaboration. Grassroots advocates and leaders of tomorrow voice the challenges and opportunities of communities. People of color, native, and immigrant communities support the diversity of stories that are the very foundation for the field of creative placemaking.
More information at cpcommunities.org/support.
Event Navigation