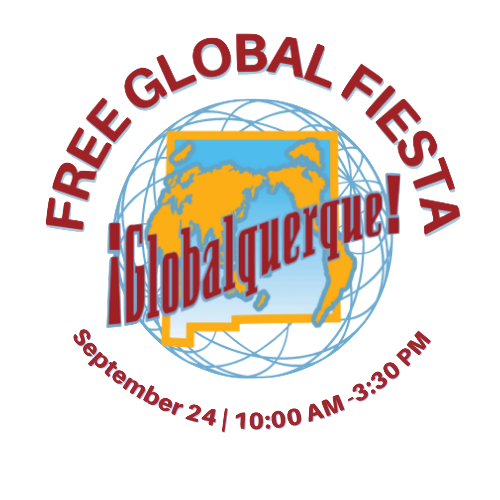 ¡Globalquerque!: Free Global Fiesta
September 24, 2022
10:00 am to 3:30 pm
Join us for a fun-filled international journey packed with educational workshops, inter-activities, film, panels, food demos, performances, and much more – with offerings for all ages! – created in collaboration with the National Hispanic Cultural Center's Department of Education! There will be interactive art activities inspired by the music and global cultures visiting the festival to multilingual poetry readings to International Dance Lessons to the NY International Children's Film Festival Viva Kids Flicks to International Food Demo & Tasting to a presentation on New Mexican History Through New Mexican Traditional Music to workshops from visiting artists from Haiti, Israel, Taos Pueblo, and Malawi and so much more! The ¡Globalquerque! Free Gobal Fiesta is a day filled with exploration and discovery for all ages!
This community event is free, but ticketed.
Please register in advance HERE.
¡Globalquerque!, New Mexico's 18th Annual Celebration of World Music and Culture is one of the premiere festivals in the Southwest and is recognized around the country and the world for its adventurous programming. ¡Globalquerque! is committed to presenting and exploring our world through music and the arts, bringing people together to reflect on our similarities, celebrate our differences and consider and revel in what makes our experiences unique and what makes them shared. The Festival offers an eclectic, wide-ranging global exploration with a diverse program of dance, film, crafts, food, educational workshops and activities – and, of course, a myriad of exciting and surprising live musical offerings! From the legendary to up-and-coming, from the traditional to the cutting edge, year to year, ¡Globaquerque! presents of the best of what our planet has to offer.
Related Events