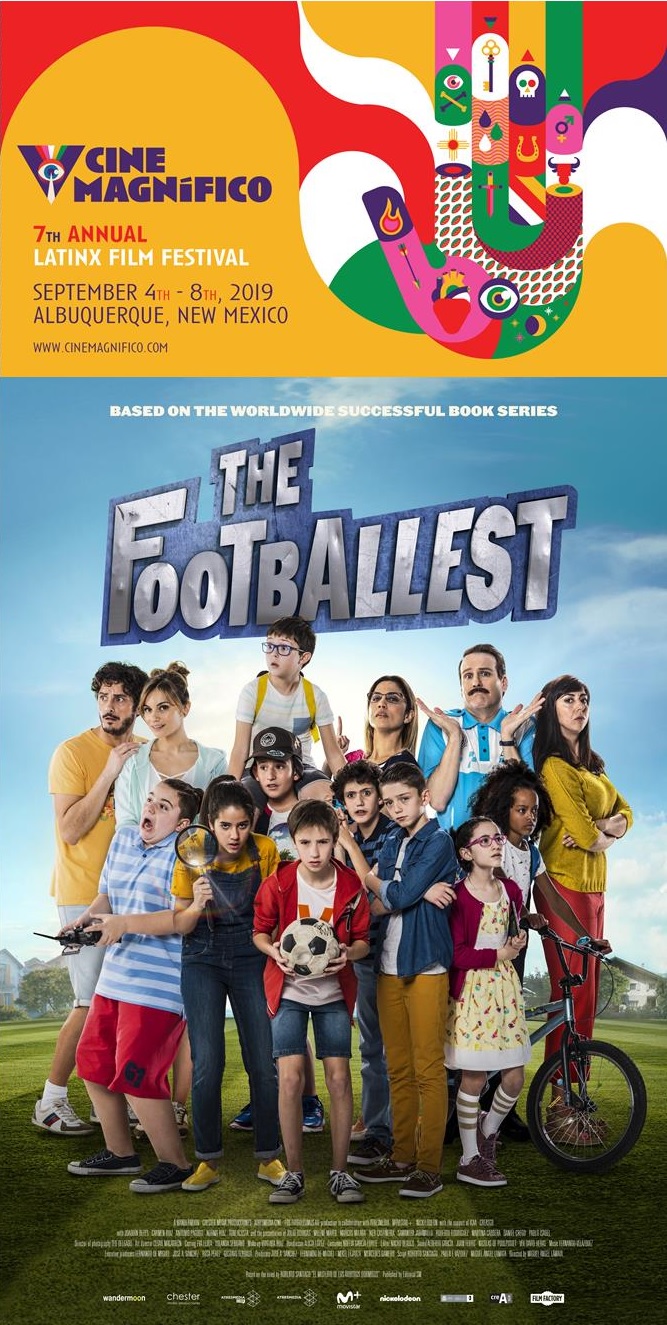 ¡Cine Magnífico!: 7th Annual Latino Film Festival: Los Futbolísimos
September 6, 2019
Matinee Outreach Film for Schools / NM Premiere
10 am
¡Cine Magnífico! celebrates Spanish and Latin American culture through presentation of some of the best of modern cinema in a weekend-long program, featuring work by first-time filmmakers and established masters alike. The subject matter runs the gamut from comedies, action, romances and documentary films, to dramatic masterpieces. Some of the riskiest and most innovative films of recent years will be included.
Pakete, Helena and their schoolmates get into all kinds of adventures in which their ingenuity and their friendship will be put to the test. All to uncover the mystery that could put an end to their football team and the continuity of their gang. Are they victims of a conspiracy or is it all the result of chance? The time has come to make a secret pact and to create The Footballest with a clear objective: to solve the enigma and to be able to stay together.
Free with a RSVP to prensa.albuquerque@cervantes.es or milly@cinemagnifico.com
Pakete, Helena y sus compañeros de colegio se meten en todo tipo de aventuras en las que su ingenio y su amistad serán puestos a prueba. Todo para descubrir el misterio que podría acabar con su equipo de fútbol y con la continuidad de la pandilla. ¿Son víctimas de una conspiración o es todo fruto de la casualidad? Ha llegado el momento de hacer un pacto secreto y crear Los Futbolísimos con un objetivo claro: resolver el enigma y poder mantenerse juntos.
Awards
2019: Films4Families Youth Jury Award: Nominated for Best Film. Seattle International Film Festival.
Spain | 2018 | Run Time: 98 min | Genre: Family
¡Cine Magnífico! is organized by Instituto Cervantes, the National Hispanic Cultural Center and UNM Latin American & Iberian Institute so as to be at the forefront of the movement to increase cultural opportunities for the entire New Mexico community and to bring Latinos and non-Latinos together to share common experiences through film.
¡Cine Magnífico! will be held September 4-8, 2019 at the National Hispanic Cultural Center in Albuquerque.
https://cinemagnifico.com/
Event Navigation
Related Events