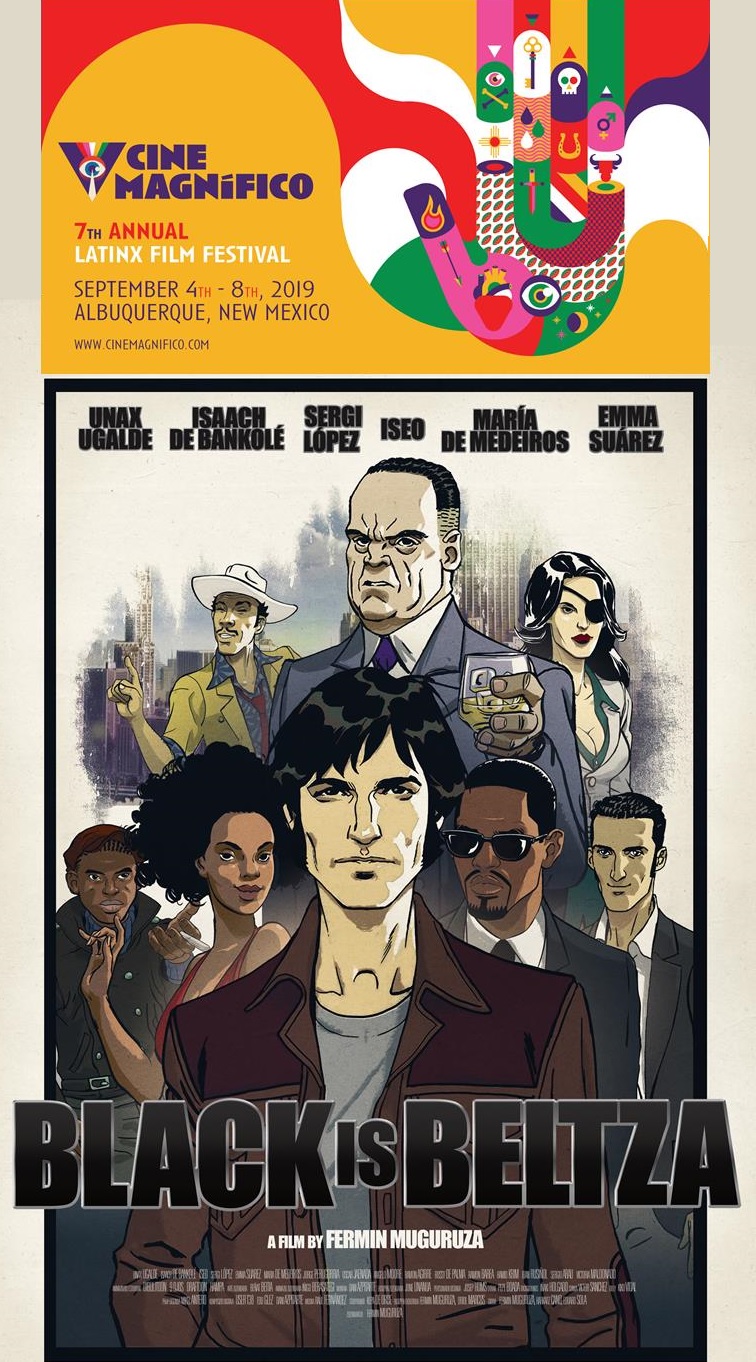 ¡Cine Magnífico!: 7th Annual Latino Film Festival: Black is Beltza
September 4, 2019
Opening Film / NM Premiere
6 pm Opening Reception, 8 pm Film Screening and Q & A with Fermin Muguruza, Director
¡Cine Magnífico! celebrates Spanish and Latin American culture through presentation of some of the best of modern cinema in a weekend-long program, featuring work by first-time filmmakers and established masters alike. The subject matter runs the gamut from comedies, action, romances and documentary films, to dramatic masterpieces. Some of the riskiest and most innovative films of recent years will be included.
October 1965. Pamplona's troupe of giant figures, a typical sight at the San Fermín festivities, is invited to parade along Fifth Avenue in New York. But not all of them will be allowed to appear: due to racial discrimination, the American authorities will ban the participation of the two black giants. Based on this true event, Black Is Beltza tells the story of Manex, the young man responsible for carrying one of the giants. Embarked on a long, unexpected journey, Manex will witness key events in history: the race riots arising from the assassination of Malcolm X, the eccentricities of the characters in The Factory, the alliance between the Cuban secret service and the Black Panthers, and the proto-hippy psychedelia of the first music festivals.
Free with a RSVP to prensa.albuquerque@cervantes.es or milly@cinemagnifico.com
Octubre de 1965. La comparsa de gigantes de Pamplona, imagen típica de las fiestas de San Fermín, es invitada a desfilar en la Quinta Avenida de Nueva York. Pero no todos podrán salir: debido a la discriminación racial, las autoridades norteamericanas prohibirán la participación de los dos gigantes negros. A partir de este hecho real, Black is Beltza narra la historia de Manex, el mozo encargado de portar a uno de los gigantes. Abocado a un largo e inesperado viaje, Manex será testigo de acontecimientos claves de la historia: los disturbios raciales derivados del asesinato de Malcolm X, las excentricidades de los personajes de The Factory, la alianza entre los servicios secretos cubanos y los Black Panthers, y la psicodelia proto-hippie de los primeros festivales de música.
Una intrigante historia que compagina la ficción con la realidad; habla de amor, de revolución y de espionaje. Siempre acompañada por una banda sonora como telón de fondo que se manifiesta de manera descriptiva y que nos transporta a la época.
Spain | 2018 | Run Time: 80 min | Genre: Animation for adults
¡Cine Magnífico! is organized by Instituto Cervantes, the National Hispanic Cultural Center and UNM Latin American & Iberian Institute so as to be at the forefront of the movement to increase cultural opportunities for the entire New Mexico community and to bring Latinos and non-Latinos together to share common experiences through film.
¡Cine Magnífico! will be held September 4-8, 2019 at the National Hispanic Cultural Center in Albuquerque.
https://cinemagnifico.com/
Related Events